'What are you chuckling away at?'
I look up to see Liz lowering her five feet and eight inches of perfection onto the sun lounger next to me. Everyone around the pool goggles in our direction.
I flip the book to show her the cover.
'An oldie but still one of the best,' I say.
'Oh, that, yes. They made it into a film.'
'You didn't like it?'
'It's about a woman who eats, drinks and smokes too much. I found her irritating.'
'No way. Let me read you the bit I was laughing at. There's more to it than that.'
I can't contain my giggles as I read aloud the paragraph.
'And she's clumsy too,' comes Liz's reply. 'She has no discipline. The diary structure is clever, though, I suppose.'
I turn my attention back to my book, while Liz reads something gruesome, by the looks of the blood-splattered cover.
I met Liz through friends of friends. She has a musical laugh which makes you seek out its source and remain for her biting sense of humour.
Our week away together is good: the sun shines every day, we meet a crowd of fun lads and even take in a few sights. But, by the time we get back, I need something else.
'Looking good, mi Amiga!'
Rhona stands to greet me as I near the restaurant terrace. Two packets of cigarettes, an ashtray and two lighters are strewn across the table in front of her. I feel good. When the waiter appears, we both order deluxe burgers with potato wedges and three different sauces.
'Is it too early to order a glass of wine?' I wonder aloud.
Rhona winks, lighting up another cigarette. There are already three in the ashtray and I didn't arrive late. Sometimes I worry about her smoking.
'So, how was the holiday with Ms Fabulous?' she asks.
I wanted to meet Rhona for a bit of normality, but I don't want to bitch about Liz.
'Nice, it's just that she doesn't eat chips and goes to the gym every day.' Saying it out loud makes me think about what had niggled me. 'How are you?'
Rhona reels off her latest round of disasters, and I laugh until mascara streams down my cheeks.
I hadn't laughed much on holiday, I realise. Liz enjoys people-watching as do I, but her comments cut so close to the bone that they made me wince. When I didn't join in with the critical annihilation of the passers-by, we switched to telling each other stories about ex-boyfriends. I told her about my first love and how he had broken my heart. For a year, I couldn't be near anyone who smelt of the particular aftershave all teenage boys were wearing at that time for fear of bawling at the memories. Liz told me about the hearts she had broken.
I don't see Liz for a couple of weeks. I miss a couple of her calls and don't manage to call back. Then she calls three times in one day, and I know she wants to plan our trip to Ascot for Ladies' Day.
'Have you been avoiding me?' she asks.
'I've just been busy.'
'Good, I thought you were annoyed at me telling you to eat salad, drink only water and consider a boob job,' she replies. 'Darling, we need to get our hair and nails done, and you may require a facial, so I need your availability for appointments.'
I am dreading it. Liz makes the appointments for the day before Ascot and, in the lead-up, I eat salad and only drink water.
I look fab on the day, if I stand a good five feet away from Liz. We order a pitcher of the acceptable drink for Ascot with all the fruit and greenery floating around inside. Liz sets about checking out the crowd for a group of men worthy of our attention. All the while, she dissects the other ladies' outfits and hats – as well as some of their noses.
'Why wouldn't you do something about that? That is just laziness.' She signals in the direction of two ladies, tipsy on their almost empty pitcher and crying with laughter. I am not sure whether it is a nose or their size that has offended her. Then their food arrives, club sandwiches and crispy chips. My mouth would have watered had it not been so dry from demonstrating self-control with our pitcher.
'Disgusting,' Liz tuts. 'No discipline.'
I can't explain how what happens next comes to pass.
There is a waft of my old boyfriend's aftershave from the waiter, then an unsteady tray full of chips and coloured cocktails lands all over Liz. Of course, her dress is wine red and survives the incident amazingly well. I am massively disappointed. She is angry, never having had all eyes on her for anything ridiculous.
A gorgeous well-to-do young man comes to her rescue, and I am forgotten, as is the pitcher. I finish it off and buy a large portion of chips on my way home.
---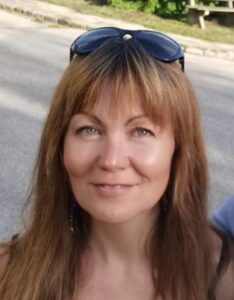 Originally from the UK, Claire now lives in Austria. Claire has been published in the Pure Slush Birth anthology and on Every Day Fiction. She has been shortlisted for Flash500 and longlisted for flash pieces with Grindstone Literary, Cranked Anvil, and Retreat West Micro. Twitter: @SchonClaire