They said things over there might be a little strange. They were not wrong. Now, I'm no hipster, I don't have soy — or even caramel — in my caramel latte, but I'm not square either. Well, maybe a little rectangular: I am a lawyer, but not one of those lawyers. The ones who, when you suggest leaving a tip for the binmen, say, 'You will probably find that gratuities are forbidden in their contracts of employment.' At least, I hope I'm not.
Despite the warnings and being merely rectangular, I was not prepared for the 'bring your pet to work' day. And when I learned about it, I still didn't expect geckos and tarantulas and, in one case, a hedgehog. These days, it seems, even Labradors are square. To be halfway acceptable, you have to mix them with an oodle.
I met Juniper by the water station. He was carrying one of those bald, wrinkly, mole-ratty cats in a plastic cage. He wore orange trousers and bright green socks – I think ironically. He strode right up and said,
'My name is Juniper. Like the gin.'
'I thought Juniper was a girl's name, not that it's really a name at all,' I found myself saying. Out loud.
'The cat's Bob,' he said. 'He's not mine. But it wouldn't do to come empty-handed.' He looked at my empty hands.
'I'm on secondment,' I said, as though that explained everything.
'And I'm anchored,' he said, 'to this great, rolling ship.'
'I don't think that metaphor works,' I told him, and headed back to my sit-stand desk with a cucumber-water. Well, I say my desk. We were sit-stand-hot-desking, obviously.
I'd like to say my eight weeks flew by. Morning scrums; afternoon naps in the sleep pod, pretending to have an MRI scan; Lego workshops. Turned out Juniper was my boss's boss, so it was comforting to know how ingratiating I'd been when we met. He also had a PhD in Economics and was once the UK's Go champion. When I grew tired of drafting employee relations policies, I would head up to the rooftop with the vapers and watch them Instagram, or, if I was lucky, chat about Fleabag and origami. Or simply have a bounce on a Spacehopper. Not that my trips to the roof had anything to do with the fact Juniper vaped and was partial to a hop.
The Tuesday before my last day, Juniper bounced up to my red-brown steed on his lurid yellow one. He was wearing a T-shirt that said 'Tangerine Tango' and socks with pugs on them. He told me he wanted to take me out on Friday night, alone or with the crew, I choose. Because he wouldn't like to be 'that' kind of boss.
'You will probably find that, under paragraph 34 ii) of the Handbook, relationships between employees are discouraged, especially where there is disparity in position.'
'Is that right?' said Juniper.
'Definitely alone,' I replied.
---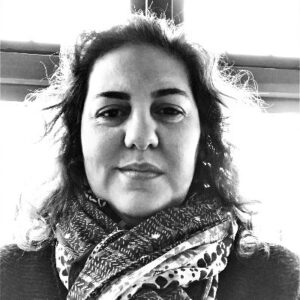 Michelle Christophorou won the Retreat West Fire-themed flash fiction competition in 2019, for which she received a 'Best of the Net' nomination. She has also won and come second in, respectively, Ad Hoc Fiction and Retreat West micro competitions, and was a runner up in Funny Pearls' 2019 short story competition. Her fiction has appeared in print and online, including in Ellipsis Zine, Virtual Zine, Splonk, the National Flash Fiction Day 2019 anthology and 100 Words of Solitude. In an earlier life, Michelle practised law in the City of London. Tweets @MAChristophorou