I've just returned from a nearly perfect week-long sojourn in you. For the record, my first visit was in 2006 and this was my seventh trip to you, so please believe I am writing because of my deep affection for you and my sincere intention to return at the first opportunity – if only you can make your streets safe for people like me.
On the first evening of my visit, after a 4 a.m. start and twelve hours of travel from my home near Philadelphia, and after my friend Denise (who traveled from Washington, D.C.) and I had rendezvoused in Albuquerque, driven north under a steely sky streaked with lightning, hauled our luggage up 41 steps from the parking lot to a rented condo, climbed another 16 steps up to the bedrooms, unpacked, wandered into town for an early dinner and groggily started strolling back toward the condo in light drizzle, at last relaxing into the mellow vibe of you, we had our first encounter with one of those thin little aliens who has invaded your otherwise charming downtown since our last visit three years ago.
This first encounter was by far the most memorable – as you shall hear – but in the days that followed, I would realize that, except for her French accent (which may or may not have been authentic) and her white lab coat (or did my mind invent that?), our first alien was cut from the same strange cloth as her pushy little alien friends.
We were walking along the Old Santa Fe Trail, just opposite La Fonda, when a pretty young brunette with a French accent materialized from the doorframe of an eerily bright, shiny little shop that was not there in 2016. She handed us each a small packet of face moisturizer. Although at the time we didn't know what she'd given us, we thanked her and kept walking. In a flash, she popped back into her little shop and out again onto the sidewalk, and started following us down the street while waving a thick syringe in her dainty, possibly French, hand, and wearing (I am certain of it now) a white lab coat, and stilettos. She said something about stem cells and helping us get rid of our 'lines'. As we quickened our pace to escape the looming syringe, I shouted back over my shoulder, 'I earned my lines, thank you very much.' That stopped her in her petite tracks. Or more likely, sent her scuttling back to the shop to reload her palm with more free samples of moisturizer. The night was still young and the tourists were only just beginning to swarm.
The next day, refreshed and ready to reacquaint myself with favorite sights around you while Denise went off to climb a mountain, I was surprised when a lanky young man, posed ever-so-carefully at the portal to a clothing store on East San Francisco Street, suddenly came to life and handed me – no, forced into my hand – another small white packet of face cream. I thanked him and kept moving, even as he tried to stop me with an offer of something for my eyes.
'You might like it,' he shouted, in a tone more sinister than seductive.
Later, as I walked along Water Street, I spotted another waifish young man lingering in a now-familiar pose in the doorway of a jewelry shop – not an establishment that might be expected to trade in skin-care products – and I knew, even before I reached him, that he too would try to press a small white pouch of something into my hand. By now, I was onto this game: I quickened my steps and edged toward the curb, dodging his unfurling arm and ignoring his offer of cream for my neck. As I blew past, he exhaled angrily, as if he were the one being accosted at every turn by aggressive little mannequins intent on applying their unsolicited products to his skin.
Did I mention that Denise and I were visiting you, in part, to celebrate our recent 60th birthdays? (Okay, we'd both be turning 61 in a matter of weeks, but it had been a challenging year – although not dermatologically speaking). No doubt we have acquired some 'lines' during the 30-plus years we've been friends. But we don't have noticeably more lines than we did three years ago. So what is up with these insulting, ubiquitous free samples, aimed squarely at female visitors of a certain vintage?
The behavior exhibited by this small army of doorway lurkers – I've described three, but trust me, there were others – is, in my opinion, the opposite of what I've come to expect from the friendly, welcoming Santa Feans I've met on previous visits. Frankly, I'm not sure they add value in a town like you that relies so heavily on tourism. Furthermore, I've always been struck with the casual elegance and natural looks of Santa Fe women; every time I visit you I vow to stop coloring my hair and let it go gray like they do. (This time I lasted a whole three weeks before I cracked.) I've come to understand that one part of your appeal – not even almost the largest part, which is how you always feed my creative self and top up my tank of happy – is a chance to observe so many gracefully aging women in one place. I'm not naïve: I'm sure they all use skin care products. But in the privacy of their own casitas, not right out there on the Plaza, dispensed from fat syringes being wielded by oh-so-thin 20-somethings who have been trained to never, ever utter the word 'wrinkle'.
So here's what I want to know, dear Santa Fe: who sent these moisturizer-pushing creatures to invade you? Did they misread their instructions and perhaps arrive in New Mexico, The Land of Enchantment, when they were meant to go to The Land of Enhancement, California, say, or Florida? (I can tell you, they wouldn't last ten minutes in Philly). Did they just drift northward from Roswell? Have you given them permission to be there? If so, you ought to rethink that decision. If you want to offer free samples to tourists, consider less judgy products. I, for example, would happily accept dark chocolate, or mango salsa – better yet, sangria, or even turquoise nuggets.
By the way, that first free sample, the one from the possibly French alien, was made in Amsterdam and 'infused with grape stem cell extract'. Who even knew grapes had stem cells? But while that one-tenth-of-one-ounce packet – and the one other I collected (from Hawaii, with white truffle extract) – both remain unopened, there is still an excellent chance I managed to infuse my skin with grape stem cells while I was visiting you: Denise and I spent a thoroughly pleasant hour or so in the Gruet Winery Santa Fe Tasting Room – also new since our last visit – sampling some gorgeous local bubbly. My face, eyes, and neck felt instantly better.
Yours faithfully,
Eileen
---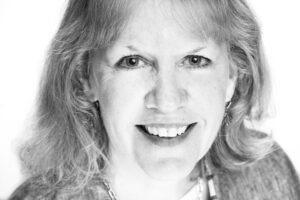 Eileen Cunniffe writes mostly nonfiction and often explores identity and experience through the lenses of travel, family, and work. Her writing has appeared in four anthologies and in many literary journals, including Still Point Arts Quarterly, bioStories, Hofstra Windmill, Bluestem Magazine, and The RavensPerch. Eileen's essays have been recognized with Travelers' Tales Solas Awards and the Emrys Journal 2013 Linda Julian Creative Nonfiction Award. Read more at: www.eileencunniffe.com.