It's early evening by the time I finally get down to the last box to unpack, and I realise I haven't eaten all day. I pick up my phone and open the Just Eat app, but I'm too ashamed to order a Chinese takeaway for a fourth night in a row. Last night I purposely ordered from a different restaurant, but it was the same driver who turned up at my doorstep and I can't bring myself to endure his pitying eyes again. Instead, I decide to finish my last Easter egg for dinner. I've already started nibbling on it.
I head to the kitchen to open the sauvignon blanc and instantly feel relaxed when I hear the familiar glugging of the liquid hitting the glass. I take a big gulp and swish the alcohol around my chocolate-filled mouth while tearing through the final stubborn layers of parcel tape with a blunt pair of kitchen scissors.
As I hack at the box, I look across the hallway towards the bare corner of the sitting room and feel a wave of grief. That's the corner that was meant to be for his records. Taking another large gulp, I reminisce about the last flat viewing we took together, when he brought along a tape measure and wrote down measurements for flat-pack bookshelves. He pointed out the ones he wanted to buy on his phone and said they would be perfect for storing his vinyl collection, gathering dust in his parents' garage.
I never met his parents.
We'd been to see a couple of flats together at the beginning of the year but, because the ones we really liked online always got snapped-up so quickly, he left it up to me to do most of the viewings. My life was more flexible, he said, so I could drop everything if I needed to. In our almost two year relationship, we had never lived together. His office is based in North West London, but he lives south of the river, so he loved the convenience of spending a couple of weeknights at mine. My place was too small for both of us to live in long term. The plan was for me to give up my poky studio apartment when my lease was up for renewal in spring. Then we'd move into a poky one-bedroom flat together in the same area.
I suppose I should've seen the red flag when he wasn't available on the evening we were supposed to sign the contract.
'My clients are threatening to pull their account if I don't sort this out,' he told me breathlessly over the phone, five minutes before I was supposed to meet him outside the letting agency.
He had used the same excuse for having to work late so many times over the final few weeks that I could barely believe he had any clients left. I didn't need to be Mystic Meg to predict what was coming next.
Of course, I nevertheless went ahead and took the flat in my name as I didn't want to lose the place, or the holding deposit. It's in the perfect location and a bargain at £1,300 per month for a flat with mould on only one of the walls. He would be transferring half of the full deposit to my account anyway, so did it really matter whose name the tenancy was under? We said we'd eventually get a joint account to pay the rent, but the only joint account we got around to organising was Netflix.
I've changed the password.
***
As I take the final gulp from my first glass, I praise myself on how good I have been – that I've resisted the urge to look at her Instagram account all day – and I decide to reward myself with another glass of wine. Reaching into the fridge, I see my phone sitting silently on the kitchen counter and, like any addict, feel a rush of adrenaline as I know I'm finally about to indulge my habit.
I pick up my phone and open Instagram. Her username appears on my 'recent' list.
There she is. They're in Ikea, in Croydon. I presume they're still there as she uploaded the photo 18 minutes ago. I wonder whether he's finally buying those bookshelves, whether he's been to pick up his records from his parents' house. She's met them, I know she has. They don't like her, apparently.
I'm frustrated that they're so close geographically, but the river that divides us makes it impossible for me to get to Ikea in time to follow them. I feel like she's trying to taunt me with her open profile, but the truth is that she doesn't even know I exist.
She's uploaded and tagged him in a photo of the two of them eating meatballs. Fucking meatballs. I take it she's not a vegan anymore. If what he says is true, perhaps she's had to review her diet.
Taking another large gulp, I look through her tagged photos. I'm feeling quite tipsy, so I scroll extra gently so as not to accidentally click on something I shouldn't. Disappointingly, it's the same old photos that I have trawled through a million times before: group-selfies of a penis straw-filled hen weekend in Mykonos; the wedding a few weeks later where she's maid of honour; and the several tagged photos of him by her side, like her little lap dog. I want to reach into the phone and squish her face, her gorgeous X-Pro II filtered face. It's all so predictable, all so unimaginative. I can't believe he would willingly choose her.
Returning to her profile page to re-examine the meatballs, I refresh and a new photo, taken in Ikea, pops up. She is standing smugly next to a showroom cot with the caption: #AndThenThereWereThree
There it is. Confirmation. He was telling the truth.
I was expecting a clichéd baby scan to be uploaded anytime soon, not this. I feel numb.
I top-up my glass with the remaining dregs from the bottle and watch as blurry emoji-filled congratulations messages start appearing.
'I'm really not bothered,' I slur out loud. 'It's not that he doesn't want to leave her, it's that he can't leave her – now.'
I take my final gulp and return to her profile page where I enlarge the photo of the meatballs. Their faces are hazy, and the two plates of meatballs have doubled. I'm hungry.
***
The sun beams through the skylight, bringing me back to consciousness. My mouth is so dry that my tongue is stuck to my palate. I am lying on the kitchen floor..
I scrape myself up off the floor and greedily gulp-down a large glass of water before vomiting it into the kitchen sink. The last thing I remember is thinking the four plates of meatballs looked delicious and pressing the 'like' button.
I search for my phone.
The battery has died.
I think I will leave it off for the rest of the day.
---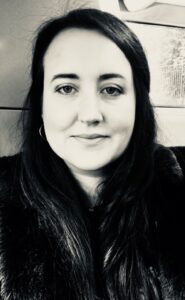 Laura Ellwood is business professional by day but outside of her professional career, she has been focusing on screenwriting for the last few years and made a short film as a student of The London Film Academy. Although she still loves screenwriting, she has also decided to dip her toes into the world of creative writing. She is working on her first novel, which is a psychological thriller.
Twitter: @laura_ellwood  Instagram: lauraellwooduk