'Do you come here often?' I ask, aware that I sound more desperate than a sweaty middle-aged man in a bar.
She shrugs, yawns openly, and says, 'Every now and then.'
My question is not reciprocated. Time to move on.
You might be wondering where I am. At playgroup, that's where. Yeah, yeah, I know, should be easy, right? Coffee – check. Biscuits – check. Toddler – check. Other mums to talk to – check. Well.
I have my standard openers, of course: 'How old is your boy/girl/little one (if too prune-like to tell)?' or 'Does he/she/prune sleep through the night yet?' Then it goes one of two ways: either the other mum is so desperate to talk she regales me with the delights of her lumpy breasts or the baby's umbilical cord which was twisted round his/her neck when it was born and he/she nearly died (yikes!), or you make stop-start conversation, trying to stretch the tiny details she gives you into something more (also yikes!). Inevitably, in either scenario, her child or mine will need something, ending the conversation like an unpredictable bell at a speed dating event.
Every week as I leave, I swear I won't go back, but the following week when it gets to 9am on Thursday morning, I've already been up for hours and it's still ages until the toddler naps and I think maybe, just maybe, this will be the week that I meet someone I click with. Someone who wants to talk about books and travel and whatever it was that we used to talk about before we had kids.
Because of half term, I haven't attended for two weeks and I've missed it, in a weird, sadistic kind of way. I make Daisy a cheese sandwich she'll no doubt refuse to eat (like everything else). I'll end up eating it once it's been squashed at the bottom of the bag all day (like everything else). Right, off we go.
As soon as I walk through the door, I sense the energy is different. The room is buzzing with nervous excitement. I look around and find the source: a new woman, and not just any new woman, but a woman wearing make-up and big earrings and a t-shirt with exotic birds in bold colours on it.
Could I? Should I? What if she looks down her nose at me with my scruffy clothes and unbrushed hair? Before I lose my nerve, I walk over and sit next to her. 'Hi,' I say, 'my name's Bathsheba, and I curse my mum every day for lumbering me with it.'
'Or,' she says, 'you could thank her for naming you after such a strong woman who soared in a man's world.'
I'm almost dizzy with excitement. 'You've seen Far from the Madding Crowd?'
'And read the book. My name's Sara,' she says, smiling. 'Do you come here often?'
We both laugh.
---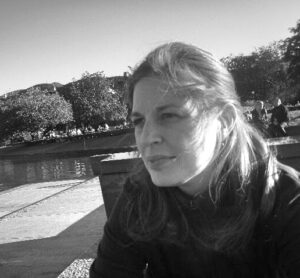 Laura Besley is a full-time mum to two young boys who squeezes her writing time into the bookends of her day. She has recently been listed by TSS Publishing as one of the top 50 British and Irish Flash Fiction writers with her story 'On Repeat' (Reflex Fiction). Having lived in Holland, Germany and Hong Kong, she now lives in land-locked central England and misses the sea. Her flash fiction collection, The Almost Mothers, was published in March 2020. She tweets @laurabesley