She fills the little plastic bags. A novelty and a chocolate, Haribo or buttons. Two per bag? Three per bag? She calculates exactly to make them equal. Thirty bags for thirty kids. Who knew the street had so many.
It's Covid Halloween. She wears slim, silicone gloves (blue, medical), a face mask (tartan) and cleans the worktop before starting. All goes to plan, pressing the seals and running two fingers along them to make sure. She is surprised the Tesco ones (bottom of the drawer) are stronger than the Sainsbury's (newly purchased). She likes a flip of expectations. She lines them up in rows: 'novelty plus 2 sweets' or 'just 3 sweets' for the older kids (like they'd realize and take the appropriate bag without her outside to instruct).
Five big bags of 'funsize' later, she looks at the tiny, solitary, leftover packet of Maltesers. She wants to eat what's in it but it's 9 a.m. and that just wouldn't do. Somehow it finds its way into her dressing gown pocket (blue), in case anyone sees it, claims it, eats it. It's time to get dressed and start the Saturday chores. There's a crinkle as she mounts the stairs, her right knee lifting the pocket at each step. Will her sleeping teenagers hear? She enters her own bedroom, crinkle, and takes the noisy packet out of her pocket. She starts to strip the bed. Crinkle. She gets dressed and moves the packet into her hoodie pouch (grey). To silence it. Crinkle! The unzipped hoodie flaps and sways and her secret crackles out, shouting to her children that she has chocolate (hidden).
Where can I put it? There's only enough for one, she thinks. It's so noisy. Ssh – stupid packet.
She fills a laundry basket and, as she jams it into her hip, she hears and feels a crunch. The sound is red and white and interrupts. 'Damn,' she exhales as the basket knocks the shower screen with a flex and a creak.
'Trying to sleep!' comes a voice through an open bedroom door.
Damn crinkle, her thoughts blare out.
She scuttles down the stairs, sees the colourful Halloween bags on the worktop, and thinks: I might as well get it over and done with. Where else can I put it?
She squeezes open the bag (red) and downs the eight chocolate balls like a Pachinko machine (fast).
---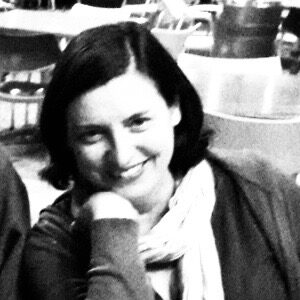 Rachel Weld is a professional musician living and working in Manchester UK, although she is Australian by birth. She mainly writes fiction and has a First Class Honours degree in Literature and Creative Writing. Her short CNF pieces about being a musician in lockdown have recently appeared on the BBC Philharmonic website and were featured in Words and Music on Radio 3. She was shortlisted for the 2020 Litro Flash Fiction Prize.