Nell's flushed face greets me as she whips the door open. She grins enthusiastically, as always, puts her arms around me and squeezes. We only saw one another a week ago.
'Let's look into your future,' she squeals into my ear.
'What do you mean? I thought you were waxing my bikini-line.'
'Nooo, I got the sack: a tiny drop of wax in my customer's eye while doing her brows.'
I've obviously had a lucky escape.
'I ordered these babies that same evening,' she continues, 'and they've arrived just in time for tonight.' Another squeal. 'I had to pick them up from the neighbour, the one that hates me.'
That last description doesn't narrow it down, but I think she's referring to the one whose hair she dyed bright orange while she was training to be a hairdresser.
'I was out buying the cloth when they were delivered. The cloth's very important, I've heard.'
I'm glad I brought wine. I pour two goldfish-bowl-size glasses. I've had another shocking week of fourteen-hour days working for a moron who just sits in his office picking his nose all day while I do everything.
Nell lets out a scream. 'I'm so sorry, Liz. I'm sure it doesn't mean you're gonna die, but I can't be completely certain.' She's holding up the death card. I stare at it, and it seems fitting – things have been awful lately. The only good thing in my life are my visits with Nell. She's so passionate about everything, throwing herself into life in a way I never have. She often gets it wrong, but at least she's out there, while I'm burying myself under work, starting and ending my day in the dark, the monotony mounting.
'Have you been ill?' she asks.
'I do keep getting dizzy spells.' I gulp my wine. Abstaining makes little sense if I'm on my way out. Nell does the same. I can see she feels awful to be the bearer of such bad news.
'You look alright. You've probably got a few more months.'
We drink a second bottle. I tell Nell all the things I wish I'd done and we make a bucket list.
I phone in sick on Monday and go to the doctor, who signs me off with exhaustion. He assures me that I'm not dying, but I feel I might if I carry on working for my current boss.
'You're fine,' Nell announces on the phone that evening. 'I read the Tarot book and the death card represents ending something and starting something new. And I really shouldn't have pulled the card out of the pack for you, so, it probably refers to me starting something new – again!'
'It's okay. I think part of me wanted to believe you.'
'I'll make it up to you. I'll come over and do your nails. I just started a course in manicuring.'
While she's on her way, I type my notice letter and look forward to my new beginning, possibly with botched nails.
---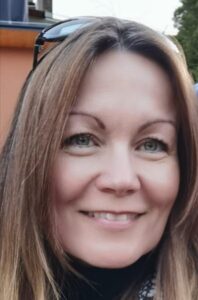 Claire lives in Austria and escapes back to her mother tongue through her fiction writing. She has stories published with Funny Pearls, Fudoki Magazine, Blinkpot, Grindstone Literary and Reflex Fiction. She won Shooter Flash in January 2022 and Retreat West's Pitch to Win for the novel she's currently writing. Claire tweets @SchonClaire. Image by Petr Sidorov via Unsplash.