I don't know why I chose to dress as a nun. More than one blessed Sister had been the bane of my girlhood existence with those pointed, bony fingers and fierce scowls of disapproval. Perhaps my revenge was late-blooming revenge, but somehow a pure white habit and matching big-flapped, 'butterfly' hat seemed right for the occasion.
Having worn Covid masks for what seemed like forever, we were advised by our formidable host to embrace the moment and wear the most imaginative masks we could find. Afterall, the party was to be at one of the toniest private clubs in all of New York, and the guest list, top drawer.
So there I was, in a mask – white, of course – adorned with darling little cherub rhinestone angels, rosary beads in one hand and pomegranate margarita in the other, sashaying around the room to 'Thriller' amidst jesters, Kings Louis XIV and XVI, and at least four Ruth Bader Ginsburgs, not to mention multiple Her Majesties. Even under my mask I could smell the excess of perfume, the pungent cheeses – no doubt expensive and imported from exotic locales – and the oily overload of chimichangas.
I looked around in time to see the grand entrance of a long, lanky fellow in an expensive looking pirate suit, his ensemble augmented with an antique sword; large, jaunty hat; shiny black leather boots and – the pièce de résistance – a live parrot on his shoulder. The pirate scanned the room and then strode towards me. If his height hadn't given him away, his one visible eye – the other eye covered, of course, with the de rigueur black patch – was a startling, luminescent, almost cornflower blue that could belong to only to one man. And if the eye didn't betray who he was, the bright green and yellow creature on his shoulder did.
'Ahoy there, maties,' the bird squawked, 'it's Matthew Logan. Matthew fucking Logan!'
With his signature swagger, it was, indeed, the infamous bad boy who had long inhabited my dreams. And here he was, finally close at hand, and here I was, dressed as a nun. What would he make of that? Perhaps I should have dressed as someone more overtly willing, such as a Kardashian. Or a woman decidedly more lovely and demure – the royal Diana? Or the not-so-demure, not-quite-royal Meghan?
By all accounts, he was not the kind of guy who wanted ordinary. Or unwilling, for that matter. Women of all stripes tripped over themselves – and each other – to get to him. And if I did succeed in out-maneuvering every other woman in the room to get my recently and expensively manicured claws into him, would the foul-mouthed bird be part of the bargain? Apart from the assault to my Sister of Charity ears, I had never been keen on flying feathers and certainly not those nasty little droppings such creatures amply distribute.
The music stopped and Pirate Matthew came toward me, advancing in long, liquid strides. He had scoured the room filled with pampered, notorious party-goers in designer masks, and yet he chose to walk my way. Praise the lord of answered promises! I clutched the rosary more tightly, took a sip of my margarita and, with as straight a face as I could muster, looked him in the eye and said, 'Good evening, kind sir. Are you here for vespers?'
There was no mistaking the glint in that one visible blue eye.
'If it were prayers, I was after, Sister, I would have dropped anchor uptown and gone ashore at St. Ignatius Loyola on Park. In fact,' he said as he inspected me from top to bottom, 'au contraire: I have some confession-worthy activities in mind.'
I felt my face take on a shade of red-orange that would have made MAC Cosmetics' marketing team beg me for the color specs.
The music gave way to that great Lady Marmalade classic, with its invitation: 'Voulez-Vous Couchez Avec Moi Ce Soir?' Could I have bribed the DJ to have chosen anything more apt?
I glanced at the parrot. The bird looked back and screeched again, 'Matthew Logan. Matthew fucking Logan!'
I broke out laughing. Then we both began laughing, catching the attention of everyone in that sea of preening attention-seekers. Fans stopped fluttering, glasses were pulled away from willing lips, and chatter ground to a complete halt. We had become the item of the night.
'Shall we repair go to the bar?' the pirate asked. 'A refill for you and the first of the night for me. I'm about ready.' He looked me up and down. 'I think you might be too.'
What did he mean by that?
The crowd waters parted as, arm in arm, we made our way to the bar through the crowd.
'Another margarita for the sister – pomegranate, I believe -– and a Glenlivet, neat, for me…and some nuts for my boy,' he said to the bartender.
'Nuts for my boy, nuts for my boy,' Long John mimicked, bobbing up and down. …….
As though reading my thoughts, he downed the pricey Scotch in one smooth swig. I gulped one needed last reinforcement from my margarita and surrendered it to a roving waiter while Matthew guided me to the door.
Well, shiver me timbers, matey. Shiver me bloomin' timbers!
Could it be that, after all this time, I would finally walk the plank? As if the DJ were the showrunner for a dating show, Etta James began to sing, "At Last". Taking Matthew's arm, I stepped outside and, as we walked into the night, Long John assured me with particular gusto, 'Matthew Logan. Mathew Fucking Logan!'
---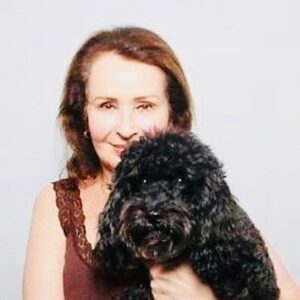 Phyllis Melhado's debut novel, The Spa At Lavender Lane, was a finalist for the 2020 Women's Fiction Award and she co-authored the true story Chasing Life (2021). Her short fiction, The Waiting Room, appeared in The Scarlet Leaf Review (August 2018) and The Lost Child is scheduled for Beyond Words Literary Journal, September 2022.
Phyllis is former Vice President, Public Relations, The Estee Lauder Companies.