They were a family built on pies: steak and kidney, chicken and ham, minced beef and onion for a midweek supper, cheese and onion for a Saturday lunch, celebratory and gala pork pies for buffet tables – always with a thick crust and a rich gravy. Christenings, birthdays, weddings. They all got a pie.
Gwendolen Brokenshire raised her sons like she did her pies, so they were stodgy thick set boys whom she filled with love and smothered with affection like a hearty gravy. Her husband, Winston, had high blood pressure, arrhythmia and ingrown toenails. Retired as general manager from Ballcock's plumbing services on account of his chiropodial ailments, Winston now spent his time as a comper, flicking through Teletext and TV Times, studying Competitions Weekly, and In It To Win It News. He dreamed of a big win, exotic coach holidays to Sidmouth and Cleethorpes, perhaps even a trip across the Channel 'en Francais', as he was fond of saying.
Winston enjoyed nothing more than lying on the couch and ruminating about his competition entries whilst Gwendolen rattled about, greasing tins in the kitchen, but he was finding inspiration rather lacking this morning on account of his painful toes. A folding rotary drier, assorted plug plants, and a year's supply of BBQ sauce were all within his grasp this month if he could just put his mind to it. Winston loved a win almost as much as he loved a flaky pastry top.
'There's a competition here to win a new Maraflouges fitted kitchen,' he shouted to Gwen. It had mock teak flush doors, onyx worktops, a wine chiller cabinet, and one of those overhead hanging things to hang pans from. It even included a new Infrawave speed oven.
Gwendolen put down her tea towel and swooned at the thought: golden pastry in half the time, even browning. She knew she shouldn't get her hopes up as Winston's track record wasn't good. His only successes to date had been a twelve month subscription to the Reader's Digest, and a self-flushing bidet that they hadn't yet plumbed in.
It seemed that Winston had developed writers block. Completing the phrase 'I'd love a new Marouflages Kitchen because …………' defeated him. He had another helping of his steak and kidney pie (not the best suet crust Gwen had ever made, a little chewy – flabby, even, he thought). His mouth watered as he thought about the perfect pastry an Infrawave Speedo oven could bake. But the words just wouldn't come.
Their eldest son Aubrey was pale and stodgy like his mother, with thick pie crust arms and a doughy middle. He was aiming for a career in nanotechnology, genomic therapy and artificial intelligence. Aubrey was in a different orbit of academia to Gwendolen and Winston and, when he received an offer from St Geraint's College to study Biological Sciences, Gwendolen was over the moon. She went on a 48 hour bakeathon, inviting the neighbours from Hyacinth Avenue, members of her Bridge Club and Winston's allotment society (he was merely an honorary member on account of his poor feet). She laid out a buffet table fit for royalty: raised pork pies with meaty jelly, cheese and leek quiches and fruit tarts – lemon meringue, apple and blackberry. She really pushed the boat out. Why not? It was only once that your son got into Oxford.
But Winston could think of nothing but the Maraflouges kitchen competition, the deadline looming, the date on the calendar ringed in red pen. He flicked though Kitchens Weekly at the corner shop, watched re-runs of The Galloping Gourmet, and pored over cookbooks. Desperate for inspiration, he leaned over the fence to ask Mrs Jabowaski about her eye-level appliances and conducted impromptu surveys at the till in Iceland about the defrost settings of microwaves.
When Aubrey went to Oxford, his parents were invited to attend the inaugural St Geraint's College dinner. Winston was strung up in a too-small suit, a blasted tie and those ridiculous shiny shoes Gwendolen liked. He wished that he was at home in his slippers with the latest copy of Compers' News. Gwendolen looked resplendent in a new suit the colour of an egg wash glaze, a soft yolk-yellow handbag over her sizeable arm. Aubrey looked like a pudding in his sub fusc, academic gown and tasselled cap. Gwendolen adjusted it on his large, shiny forehead and he scowled. She'd brought him a raised pork and egg pie in her handbag. He'd be less grumpy when he saw that.
They were shown to the Masters Table, set high above the dining hall, where they were seated alongside the College fellows and academics. A bell sounded and the room was silenced as Sir Selwyn Eaton- Barnes, The Master of the college, stood to give the welcome toast.
'We have a very special dinner this evening,' he announced. 'A five-course tasting menu developed in collaboration with the Department of Experimental and Space Psychology. Food of the future.'
Winston wasn't listening, he was trying to catch the eye of the master's wife to ask her what items she rated in her kitchen. Gwendolen was busy reading the menu:
Demitasse of soup;
Carpaccio of Beetroots (whipped goat's cheese, toasted walnuts);
Torched Mackerel (rhubarb, cucumber from the college garden);
Lamb three ways ( mini shepherd's pie, cutlets, crispy sweetbreads, star anise carrots);
Pannacotta with blackcurrants, tuille.
Relieved to see a pie on the menu, she undid the top button of her blouse and gave a long low breath, her bosoms released.
The conversation at the table was like pinball. Professors and Fellows and Doctors bounced words back and forth which she didn't understand. They discussed NASA space food, freeze dried and packaged in retort pouches, rehydratable Shoyu flavoured Japanese ramen. The Chinese astronaut Yang Liwei ate specially processed yuxiang pork tablets, they were saying, food in shiny foil packages. Gwendolen refilled her glass and smiled at them all through clenched teeth. She wished she were at home, rolling out a ruff puff, greasing a tin.
The meal got off to a bad start with the soup, a thick pea green liquid drizzled with some sort of canary yellow oil and heaped with small squares of hard bread that nearly cost her a crown. There was something wrong about it, a taste almost like her bath bombs – rose water, a hint of spice, sweet almond oil. Gwendolen gagged, rested her spoon by the bowl. Winston seemed to have finished his and was mopping up with a piece of bread, thick with butter. She jabbed at Winston's chin where there were green smears around his mouth.
The elegant carpaccio of beetroot looked delightful, thinly sliced in ruby red rings and topped with goat's cheese like mini ice cream cones. But the slices were tough, the texture of elastic, with the iron rich taste of aniseed finished with a whirl of meringue. The single walnut, perched on the top, was soft inside like fudge. Winston had cleared his plate and was wiping a finger round the edge. She signalled him with a Kung Fu hand movement tell him to stop, but it was too late. He was engrossed in discussion with the Lady Vice chancellor about the merits of stainless steel handles.
The Space Science Fellow with bad breath on Gwendolen's right leant over. 'Are we enjoying the mystery tour of gastronomy?' he asked.
Gwendolen tried to stop her face from pinching.
He tapped his nose. 'Bet you can't guess where it's all come from.'
Gwendolen stabbed at the torched mackerel, a creamy lemon concoction with a silver sugary skin. The stick of rhubarb on the side tasted yeasty, the cucumber slice like mouthwash. It almost made her heave. Meanwhile, Winston was leaning over to finish off the plate of the lady to his left, a stick-thin woman with oversized teeth, who was also sharing with him her appreciation of easy-close drawers.
Aubrey, meanwhile, seemed to be having fun with a goth girl from Vladivostok, an aeronautical student who was showing off her knowledge of the Russian Soyuz 22 mission. Her research would eliminate the whole problem of what to do with faeces in space. Oral nutrition in one tablet with no waste. Aubrey swooned.
At least there was the shepherd's pie to come, Gwendolen thought, braised lamb in a rich gravy, creamy mash, earthy veg. A rare cutlet and crispy sweetbreads on the side. You always knew what you were going to get with a pie. But when it arrived, it didn't look like a pie. It was squashed into a small ramekin she couldn't push three fingers into. Blow-torched, she thought, to get that kind of charring. She took a forkful (there were possibly only two), closed her eyes and let out a whimper. The prevailing taste was bitter then sweet, a mush of something she couldn't place, topped with whipped white chocolate and cream. She picked up the lamb cutlet in her fingers and took a bite out of sheer despair. It squished like marzipan. The sweetbread had been dipped in acacia honey.
Aubrey leaned over and whispered, 'Isn't it exciting, all this new experimental food?'
It's made to look like one thing and taste like another- you know to mess with your brain receptors, to challenge your perceptions.'
Gwendolen's head was spinning. She had to lie down on the bench at the Master's High table whilst Winston fanned her with the menu and Aubrey looked on, aghast. The waiting staff offered her a glass of water, but she wasn't sure it was safe to drink. Everything at this dinner was not what it seemed. When she recovered, Winston had eaten her dish of pannacotta and the two tuilles.
'Fish roe and fried bread,' he said, wiping his mouth with the back of his hand. 'Delicious.'
Gwendolen almost relapsed.
'It's the future, Mother,' Aubrey said, after the dining room had emptied. 'We're all conditioned to expect certain foods to taste a certain way. We are trying to reprogramme our brains to accept new ideas, flavours, tastes.' He told her about the slug kimchi, jellied borscht made from fungi and algae rich beef and liver paste in a tube. Skin cell tablets that tasted like a roast dinner. Gwendolen became so queasy that she nearly forgot to give Aubrey the gala pie in her handbag.
Gwendolen didn't remember the journey home, the car swaying and the food rolling around her tender stomach. She undid her waistband and glanced at her phone. Aubrey had sent a photo of himself and Veronika, the goth from Vladivostok, holding her 'No Poo Nutrition tablets'.
Winston was on a high, talking nonstop about Russian made infrared fission ovens, quartz countertops, and zinc antimicrobial splashbacks.
'And by the way, Gwen, I've got an excellent idea for the kitchen competition,' he said.
Just north of Stourbridge, they had to pull over. Gwen's stomach had had enough.
Two weeks later, a letter dropped on the doormat with the latest edition of Compers' News. Winston appeared in his dressing gown and foam toe caps, and excitedly tore open the envelope. Gwendolen stopped rolling out the sweetened shortcrust and wiped her floured hands.
'I've only gone and bloody well won,' he shouted. 'A new Maraflouges kitchen, Gwen!'
Gwendolen couldn't believe it.
'Do you want to hear my winning ditty?' Winston added proudly. 'You always know what you're going to get with one of my wife's pies'.
Gwen smiled. It was cheese and onion today, with an iced gem crust.
---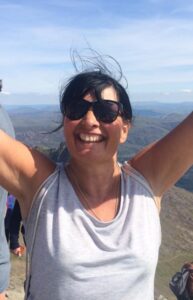 Helen Kennedy is a Mancunian writer who has just completed an MA in creative writing in Oxford. Her short fiction and flash fiction have been shortlisted for the Bristol prize 2022, the Cambridge prize 2021, and published by Storynook, Reflex and Flash Flood 2022 as part of their new writers series. Her short story will be published by Fly On The Wall Press in 2023 as part of their short story anthology. She is currently writing a debut novel and a collection of flash fiction.