My first ever cooking fiasco occurred when my brother asked me to boil two eggs.  'Don't forget to salt them,' he told me, as I threw myself into the task.
I had no idea how to boil and salt the eggs simultaneously, so I decided to simply smash the eggs into the hot water. After an hour of struggle, we had no more eggs in the house and I had to clean every surface in our kitchen, my brother's hysterical laughter accompanying the process. The dish I had produced resembled boiled eggs like a Giraffe resembles a cat.
The event became an anecdote that my relatives would share over and over with their friends and with friends of friends. It mercilessly followed me everywhere I went, and resurfaced when I least expected it. Two boiled eggs – the embarrassment of my life.
That's why, from the age of eleven or twelve, I was willing to have a go at any new challenge except, well, cooking. But – I have to add a huge but here – in my family, cooking and serving a meal was quintessential. The most important questions you'd hear at our house were 'Are you hungry?' or 'Have you eaten?', the implication being that as long as you were not hungry, everything else was secondary. A good meal could defeat any drama, any worry, any existential crisis.
Cold dishes, hot dishes, starters, side dishes, main dishes, desserts, you had to master them all and then, on most occasions, feed at least twenty guests effortlessly. No woman in our family bragged about it. The ability to cook was never considered anything extraordinary. Rather, it was an intuitive talent that would eventually blossom as you matured and started your own family. Tables loaded with traditional Georgian food – and wine, of course – were seen as standard, and every girl was expected to continue the tradition. Good cooking was synonymous with happiness, prosperity, kindness, and with the homes where grandmothers were reigning chefs preparing Satsivi's, Khachapuri's and Gozinaki's for the New Year. Mothers were sous-chef's who made desserts, tarts, pies, and decorated tables. Cooking was a bond between generations.
My grandmother's masterpiece was Khinkali, a dish originating from the mountainous regions of Georgia. My mother's all time special was a creamy dessert called Ideal. Although I've never seen my grandmother in the actual process of cooking, she knew everything about making a perfect fish dish, as her family came from one of the seaside towns. But it was her sister who was the undisputed queen of their kitchen. At any part of the day, she always had something yummy for you.
It didn't take me long to discover that I was a complete outsider. The boiled eggs disaster shut the kitchen door for me. My relatives gently hinted I was not expected to be responsible for feeding our family. So, my conformist self chose the best possible alternative, and I became an observer, a taster, an eater, but never a maker of food. As much as I loved dining out, or trying new cuisines when travelling, I never saw life through the scope of delightful dining experiences, instead choosing movies, books, fashion or TV to satisfy cultural urges.
As we grew up, my friends married, became mothers and wives and began throwing themselves into culinary adventures. Most of the time, I was there to taste, observing their evolution. Chicken soups for their toddlers were an epitome of the early stages of marriage, followed by Caesar salads and pizzas, rice puddings, barbecues, and pastas, fried turkey and foie gras, and guacamoles, which took our friendships through divorces, new husbands, our children becoming teenagers, new lovers, and successful careers. Dishes became milestones that signalled new turns, highlighting changes in tastes and priorities.
In my own life, cooking skills remained a low priority until the day I fell madly in love. Bernard worked in a less than fancy French restaurant in Vichy, where I was spending a month studying French. On our second meeting, Bernard suggested that the fastest way to learn a foreign language was through making love. While I can't exactly recall my French improving that summer, I remember how unbelievably delicious Bernard's omelettes were: so soft, crunchy, yummy, yellow, warm, and sunny. I devoured every bite. Bernard enlightened me to the thrill of watching someone cooking just for you, especially if you were head over heels with that someone. Bernard made exquisite apple tarts too. But for me, he'll forever be king of the morning-after sex omelettes.
We split two days before my departure, and I never heard from Bernard again. Strangely though, meeting him in my early twenties left me forever attracted to men who were exceptionally good at making omelettes, or Eggs Benedict, any dish in which eggs were an essential ingredient.
Sebastian, a tanned surfer whom I met at Istanbul airport, had long muscular hands and a curly ponytail swinging on my nose as we woke up in my apartment two days later. He went to the kitchen to make.. yes, an omelette. He was good. His omelette? Almost perfect! Our romance faded away when Sebastian left for Australia.
Then there was Andreas, the first proper cook I introduced to my family. (He was later to become top chef at a world-renowned hotel chain). It was during my time with Andreas that the reoccurring pattern of me staying away from the kitchen, finally broke, and I started to cook along with him, attempting bruschetta and tagliatelle, carrot cake, and tiramisus, steak tartare, and mille-feuille. I was slowly but steadily becoming a kitchen goddess or so I thought. My family seemed a bit happier, yet still unimpressed with Andreas. For them, cooking was not something you'd need to learn at college, it was something rather intangible, valuable, but never an astonishing accomplishment. Andreas dumped me after a year and a half. He made me scrambled eggs as I sobbed, heartbroken, on the day of our final goodbyes.
One Thomas, and one George later, I tied the knot with Charlie, a doctor. He made me omelettes on every wedding anniversary. After twelve omelettes we divorced. I baked him a Tarte Tatin, as a farewell gift, four and a half weeks ago.
I'm flying back home now. Single again. Hungry! Starving! It's early morning, and I'm sitting at the airport restaurant waiting for my flight. It's packed but I've managed to get a seat at a table in the corner, opposite a man glued to his laptop.
The waiter approaches and asks cheerfully. 'Ready to order?'
'Yes, please, an omelette,' we both reply.
---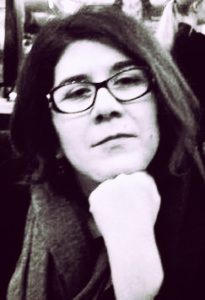 Nino Gugunishvili leaves in Tbilisi, Georgia. She self-published her debut women's fiction novel, Friday Evening, Eight O'Clock in 2015.  
Nino has a professioanl background in Film, TV and journalism. She frequently blogs at www.shewrites.com and can be found on Twitter: @NinoGuguni 
---
Related stories: