A year after my mother died, and on her birthday no less, she told me to throw away all the sentimental items I'd been holding onto for years in grandma's antique trunk.
I didn't hear my mother's voice outright from the grave, if that's what you're thinking. She spoke to me in echoes from the past that I had so far chosen to ignore. But now, on her October birthday, I'm honoring her wishes.
My ballet shoes: Throw them out? My mother had attended every recital, so you'd think the shoes would represent good memories for her. On the other hand, I'd never made it onto my toes, so as for keeping the shoes, I guess she's right: what's the point?
Girl Scout badges: For half of them I forged her name but my conscience got the better of me so I confessed and was forced to return them. But not my sash!
My swimming certificates and horse show ribbons of glory and glee: At my first show, a pony stomped on my foot and broke my toe. The irony – there went the ballet.
My girlhood diary: No, that's a keeper. Nobody speaks to me from the crypt on that one. First loves, hopes and dashed dreams – even mother can't read about that now.
Beads, basket weaving, and marbles: Alright, I'll give her that because maybe I am losing mine. Colorful collections, unfinished – at spurts of growth. Mom witnessed me transition from one failed craft to another. Dumped. Ah, the cleanse of motherly wisdom only gleaned in a state of mourning, her wishes previously and selfishly denied, but now how I'd love to bring her back.
My self-portrait: Left unfinished no doubt finally given over to the dust of rusted paints, and painted shells scattered on the bottom rattling and scraping against my first play china tea set. Wouldn't Mom want me to keep that? Not now I've inherited the real deal – Noritake Apple Blossoms adorning plates and cups.
And so I cull, chucking the old junk from the trunk and I think, 'what the hell?' She never even liked the trunk. So I drag it to the curb so someone else can treasure it and let it haunt their family.
I keep what I can't quite part with, memories safely stored where she can't steal them, but in doing so, I can hear her still.
---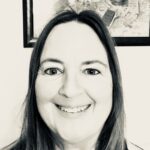 A.V. Arsic is an award-winning magazine publisher and editor, received a short story Honorable Mention and was Longlisted for Glimmer Train, and short-story second place winner from Rita Mae Brown. She has been published in Virtual Zine and Reflex Fiction. She is an alumna of Curtis Brown Creative.