I love Christmas, but Christmas doesn't always love me.
The worst was my first Christmas without my father. He had died two weeks earlier. I flew back to New York in early December, thinking I would spend an entire month with him, but he went into hospice three days before I arrived. On the day of his funeral, the freezing cold whipped through me as I stood in the graveyard. It was exactly the way I felt inside – frozen. It was as if time had stopped and the world would never feel warm again.
When I returned to LA, I carried the chill inside me. Life was different, life was less.
*
One LA Christmas Eve, all was in place: The silverware was lined up perfectly, cut crystal wine goblets sparkled, napkins in shimmery shades of silver and gold were shaped like swans, holiday hand-painted water glasses were ready to be filled, and the matching dinner plates awaited the home-cooked food.
On Christmas morning, I opened my eyes and yelled, 'It's Christmas!'
And then my son's dad, Tim #1, yelled, 'Oh no! I need to go shopping!'
'On Christmas morning?'
'Something must be open,' he said.
About thirty minutes later, Tim #1 came home with a nondescript white plastic bag and said, 'Yeah, not much was open.'
That year, I received: several boxes of Tic Tacs, a Hershey's Almond Chocolate Bar, a key-chain flashlight, Slim Jims, two cans of Vienna sausages and a variety of car air-fresheners including Royal Pine. All gifts compliments of the corner Mobil station. All gifts wrapped in that day's LA Times then placed inside an old wicker Easter basket found in the garage… Merry Christmas!
The following year, Tim #1 was determined to make up for the road-trip-snack-basket gift. He flew my mother out from New York. His own family was also coming down from Northern California. With over a dozen guests expected, I went into serious preparation mode and that December was 'Operation Best Christmas Ever.' I planted the walkway with fresh poinsettias, wrapped dozens of gifts with the skill of a neurosurgeon, and cooked eight side dishes, including eggplant parmesan. I grilled an entire leg of lamb meticulously stuffed with dozens of freshly peeled garlic cloves. Topping off the gourmet extravaganza was a gorgeous homemade bourbon bread pudding.
Everyone arrived at noon, and I received compliment after compliment about how the house looked stunning and the food smelled wonderful. Champagne was popped and we attacked the finger-food while going into full-force gift unwrapping. I scurried around with a trash bag, keeping the Christmas oasis tidy and neat. When we finally sat down to dinner, my mother-in-law made an announcement.
'Well,' she said in her high trembly Katherine Hepburn voice, 'I'm not sure if you realize this, but that painting is not actually yours.'
She was pointing at the huge oil painting above our long teak dining room table. It was an abstract of the Holy Spirit she had painted decades ago with red, orange, and yellow fire streaks scattered with hints of deep purple. I loved the colors and it looked perfect in our dining room. After my mother-in-law's odd proclamation, Tim #1 and I gave each other a quick glance.
'I painted this for Jerry, but somehow he seemed to have lost track of it after moving several times,' she continued.
Jerry was her fifty-year-old son-in-law who sat across the table from me.
'Oh,' said Tim #1, 'I retrieved the painting from Jerry's garage sale years ago. He wanted to sell it and I said, 'no way.'
'Nevertheless,' said my mother-in-law, 'its rightful owner is Jerry, so when we leave tonight, we'll see if we have room in the car to take it.'
Jerry sat silently with a half smirk on his face. Tim #1 and I looked at each other as if to say, Is this a joke? The abstract painting had hung in our dining room for the past three years without any mention that it wasn't ours.
'Does anyone want cheesecake?' said my mother.
At the end of the evening, my mother-in-law instructed Jerry to grab the painting and away they went. They left a bare nail on our wall. That Christmas would be forever known as 'The Grinch Christmas.'
Year after year, I've gone out of my way to make Christmas special, but I always feel a sense of disappointment in the end. Did I deserve an old basket of crappy trinkets from the local gas station, and a painting ripped from my wall? Was it my fault? Did I overdo Christmas, and expect too much in return? I didn't expect to walk outside and see a Mercedes in the driveway with a big red bow, but it would have been nice if my family put some thought into a gift for me – some kind of an incentive to 'keep up the good work, Mom!'
Five years later, after a string of disappointing holidays, a divorce, and a new relationship, I thought for sure the Christmas curse would finally die a painful death. It was a few days prior to the holiday when my boyfriend, Tim #2, started acting strange, and stressed out. He dropped hints that he didn't have time to go shopping. Not again, I thought.
On Christmas morning my son opened his gifts while Tim #2 anxiously sat beside me. After my son was done, I gave Tim #2 a beautifully wrapped box containing vintage cufflinks. He thanked me with a light kiss on the cheek. There was a long uncomfortable pause, so I did what I always do – I started picking up the discarded paper from all the gifts that I wrapped.
'Mom, Mom, look!' yelled my son. 'Tim wants to give you something.'
I was afraid to turn around. I thought perhaps he was holding a bag of Doritos with a Christmas tag. But then I saw Tim #2 on his knee holding a small ring box. He opened the box, smiled, and asked the question.
'Yes,' I said.
Then I thought, I love Christmas and Christmas loves me.
---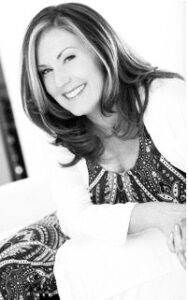 Andrea Tate, MA, MFA, is an affiliate professor at Antioch University, Santa Barbara where she teaches Professional Writing, Academic Writing/Research, Senior Capstone, and Creative Nonfiction as well as her online class A Writing Practice. In addition, Andrea serves as the faculty advisor for AUSB's magazine Odyssey Online. She served as a nonfiction assistant editor and monthly blogger for Lunch Ticket where she had the honor of working as an assistant editor for the Diana Woods Memorial Prize. Andrea's essays can be found in The Huffington Post, Role/Reboot, Hippocampus Literary Magazine, Angels Flight West Literary Magazine, Nailed Magazine, and Jaded Ibis Press. Her story "You" was published in the anthology Extract(s) in 2014. Andrea is an award winning theatre director whose plays have been featured in Backstage, LA Times, and The VC Star. To read more about Andrea, visit her website at https://www.andreatate.net/ Twitter.com/andreatatemfa