Mimi saunters into the bank at the same time every Thursday morning with her Bingo winnings from the night before. She pushes through the heavy glass revolving doors and moseys into the atrium in her frumpy camel coat, black leatherette handbag, and vintage Mae West hat, ready to count out every penny. The tellers greet her arrival like Pavlov's dogs. For amusement they place bets on her bounty, and estimate with surprising accuracy the amount of her deposit.
Today is somewhat special: It is Mimi's birthday – she is eighty-five years old – and the tellers have prepared a modest gift for their long-time customer. But, when she walks in, it is they who are taken by surprise. Mimi looks ravishing. Chiselled away are the deep wrinkles and age spots. The once white-haired pensioner is sporting a blush-pink lamé blouse, pleated dress slacks, and suede Jimmy Choos. On her arm is Fred. She offers no explanation for her boy toy, though her painted lips do some fast talking. Fred beams, his face frozen.
Conversation is light all around. The prepared surprise is all but forgotten in the face of the miraculous transformation that is Mimi at eighty-five. She dazzles, leaving them dumbfounded. No one can get a word in edgewise.
After a brief rendition of 'Happy Birthday', the tellers bid the octogenarian a lovely day. On the way out, Mimi's Jimmy Choo heel breaks off. She skids across the faux marble flooring, only to be caught mid-fall by Maurice, the security guard, whose quick reflexes break her tumble. Fred does not fare as well. His flesh, a compound made of thermoplastic elastomer – a blend of silicone and polyvinyl chloride, it turns out – suffers a deep gash. While Mimi recovers her composure, her boy toy shrivels and loses his. The once buoyant and enigmatic companion is no longer.
Maurice, sensing Mimi's dismay, takes her by the elbow and escorts her to the counter where she promptly makes a sizeable withdrawal.
'No worries,' she declares. 'They are a dime a dozen with my senior's discount!'
---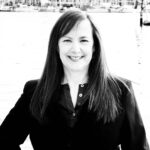 Karen Schauber is a Flash Fiction writer whose work appears in 25 international literary magazines and anthologies, including Brilliant Flash Fiction, Bending Genres, CarpeArte, Ekphrastic Review, and Fiction Southeast. 'The Group of Seven Reimagined: Contemporary Stories Inspired by Historic Canadian Paintings' (Heritage, 2019), celebrating the Canadian modernist landscape painters, is her first editorial/curatorial flash anthology. Schauber runs 'Vancouver Flash Fiction', a flash fiction Resource Hub and Critique Circle, and in her spare time, is a seasoned Family Therapist. A native of Montreal, she has called Vancouver home for the past three decades.
Facebook: Karen Schauber
Twitter: @KarenSchauber