---
The man from A1 Fencing (all types of fencing undertaken) arrived this morning. I opened the door wearing my three-weapons mask, brandished my épée and shouted, "En garde!" He ran away. Later I found out he'd called the police. Harsh.
The man from Fletcher Security Systems arrived this afternoon. I opened the door dressed as Robin Hood. He looked confused.
"Fancy dress party?" he asked.
"Um, no. Have you brought the arrows? And, legally speaking, is it ok for me to protect my property by firing arrows at intruders?"
His confusion hadn't lifted. In fact, if anything, his brow had furrowed deeper, forming several pleasing chevron shapes, as if indicating the position of his nose should he have cause to forget its whereabouts, while simultaneously advertising his profession. Then his eyes widened.
"Oh. Eh, no, I don't make arrows. My name is Fletcher." He laughed.
"Well you want to do something about your company name, mate. This must happen to you all the time." I closed the door on him. I could hear him swearing at me all the way down the path. Uncalled for.
A woman from More Than Insurance rang this evening. We had quite a long chat about all the things More Than do, other than insurance. It turns out it's nothing. Absolutely nothing. And I made an extensive list of enquiries. She hung up on me. Rude.
I'm having a skip delivered tomorrow. It will be such fun.
---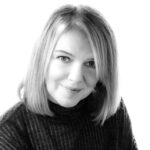 Karen Jones is a prose writer from Glasgow with a preference for flash and short fiction. She is addicted to writing competitions and is a perennial long/short-lister – Commonwealth Short Story Competition, Bath Flash Fiction, Bath Short Story, To Hull and Back, TSS 400, HISSAC– though she has reached the prize-winning stage with Mslexia, Flash 500, Words With Jam, Ink Tears and Ad Hoc Fiction. Her work is published in numerous ezines, magazines and anthologies. Her story Small Mercies was nominated for Best of the Net, the Pushcart Prize and is included in Best Small Fictions 2019 and the BIFFY50 2019.