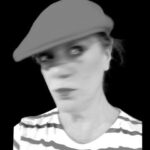 ---
Laurie Rosenwald is a painter, author and principal of Rosenworld, a design and animation studio. Actually, there is no studio; Miss Rosenwald usually works alone, and Rosenworld doesn't exist. In spite of this, www.rosenworld.com was launched in 1995. She has written and illustrated three books. For young adults, Bloomsbury released 'All the Wrong People Have Self-Esteem' in 2008, a stellar year for publishing, the economy and sarcasm. She's also written and illustrated a guidebook: 'New York Notebook (Chronicle, 2003), and a children's book: 'And to Name But Just a Few: Red, Yellow, Green, Blue' (Chronicle, 2007).
Rosenwald has done hundreds of drawings for The New Yorker, The New York Times, New York, The Atlantic, Harper's, Vanity Fair, The Believer and countless other publications. Her workshop, 'How to Make Mistakes on Purpose', has been held for Google, Ted-X, Adobe, Starbucks, Scholastic, Prince Carl Philip of Sweden and a herd of deer, among others. 'How to Make Mistakes on Purpose': the book is now in the works. Rosendwald's painting studio is on a civil war era pier on Red Hook, Brooklyn. You have to take a ferry to get there.
No one knows where the money goes.
---