An escalator is the ideal hunting ground: so many faceless bodies. It's easier, he feels, when you don't see their faces. He hops up the steps, two at a time, to show he's just a regular, busy guy on his way to work.
All the world is here, on this slow-moving conveyor belt. Different ages, ethnicities, body types, and he doesn't discriminate. A pat here, a squeeze there, so vanishingly light that they barely register what's happened. When they whip their heads around, he's already gone. He's well-practised: a master of his craft. And so they don't say anything. They can't be sure, and they don't want to cause a scene. Besides, what could be done?
A sudden jolt and he staggers, falls. The jagged metal teeth show him no kindness. It's a long way down. Something is broken, and blood seeps from the deep gash in his cheekbone. People step over him, because they all have places to be. He is going to miss a very important meeting.
The faceless bodies have since scaled the summit, oblivious to the cosmic meting out of justice. The next day a new sign appears, reminding commuters always to hold the handrail when using the escalators.
---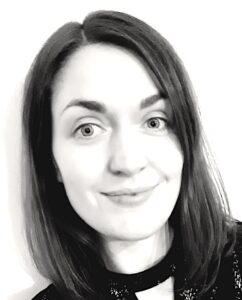 Katie Oliver writes flash fiction, poetry and short stories. She has recently been shortlisted for the Bridport Prize in the flash fiction category, and longlisted in the Reflex Press flash fiction competition. Her short story, 'TimeOut', features in The Box, (Fincham Press, 2019). She can be found on Twitter under @katie_rose_o