I need your help. I've been a bit silly, and I'm not quite sure what to do. It's been a tough week for me, and I've not been coping very well.
It's just very difficult to stay friends with your ex on social media. We said that we would keep things civilised. But how civilised is it to break up with your girlfriend of three years, start dating someone else four weeks later, and post it shamelessly all over Facebook? I really can't take the blame here.
Anyway, it was a Friday night and I had come home after work drinks. I didn't go looking for it, but it was there: At 9pm James had posted a photo of himself and his new girlfriend. They were in a bar, looking all fancy, holding matching programs and glasses of wine and he had written in his status: 'Night out seeing #NationalSymphonyOrchestra at #LondonPalladium with this one.'
Do you want to know the last thing he took me to see? It was The Avengers. I hadn't even wanted to go. It was his suggestion. But you know what it looks like now, don't you? It looks like he was the cultured, sophisticated one in the relationship and I was holding him back. But, really, I'm far more sophisticated than he is. It was me who suggested we watch the Louis Theroux documentaries, not him. So I had a quick Google and posted 'Does anyone know where you can get tickets to see a show at the #RoyalOperaHouse?'
I woke up the next morning, and again I didn't go looking for it, it was just there in my feed: a photo of them sitting outside a coffee shop with these teeny, tiny cups of espresso. He had written 'Perfect start to the weekend away with my girl. #Rome #espresso #thedolcevita.'
He doesn't even like espresso. He drinks Nescafe. 'My girl'! Who does he think he is, Macaulay Culkin? The Temptations? 'My girl'- honestly! My-near-stranger-I've-only-known-three-weeks, more like. I've-got-sunshine-on-a-cloudy-day-with-my-girl-who-has-only-known-me-three-weeks-and-who-has-never-had-to-sit-next-to-me-on-the-sofa-watching-Downtown Abbey-while-I-alternate-between-picking-my-nose-and-picking-my-feet, more like.
But there he is with his stupid espresso in his stupid tiny cup with his stupid new girlfriend. It was me – me – who wanted us to go to Paris this year on a mini-break, but he said he couldn't get the annual leave. Well, someone's got some annual leave from somewhere hasn't he? What did he do? Make the year longer?
I had to come back with something. I couldn't have people thinking I was at home watching Game of Thrones while he was out living the dolce vita in Rome. So I posted: 'Does anyone know if you need a visa to visit Bhutan? #travelbroadensthemind #whereeverIlaymyhatthatsmyhome'. I'm not really planning on going but I could, I could.
That was that, and then, on Sunday night, he posted again. It was a photo of the two of them in a garden, sitting on a sheet with an old dresser, half painted in duck egg blue, and with her holding up a paint brush. Underneath it was the caption: 'Does anyone have any furniture they want upcycling? Me and the girl are looking for pieces to build up our portfolio for our new upcycling business. Reasonable rates offered. Please contact me for a quotation #livingourbestlives #beingyourownboss #dreamitbelieveitliveit.'
Like he knows anything about upcycling, or portfolios, or reasonable rates. It was me who'd said he needed a hobby, me who'd found him all those Meet-Up groups, me who'd brought him that furniture book. What had he done with it all? Nothing. Nothing until he met his girl, that is.
And now he's growing a beard. I always said he would look better with a beard. He said it would be too hot in the summer and that he'd get food stuck in it. Not such a problem now is it? With his sweaty food-covered beard with bits of ginger and grey in it.
I just couldn't take it. I'm the enterprising one out of the two of us, not him. I've still got my old guitar back at my parents' house and I've been saying for ages that I need to start learning again. So I picked up the guitar from my parents, laid it on a patchwork blanket next to a lit candle and a Beatles vinyl album, and posted the picture with the caption: 'Looking to get back into #makingmusic #musicmakestheworldgoround #musicismylife. Does anyone need guitar lessons? Planning to get back to my first love! Please contact me.'
On Monday morning I woke to a response. It was from my ex-boss posting: 'Could you do Tuesdays? Zachary's guitar teacher has just moved out of London and I'm looking for a replacement.'
So I replied, 'I would love to teach little Zachary. Tuesdays are perfect for me.'
Then he replied with: 'That's great news. We were not sure what to do with him as we're both working late on Tuesday. I'll send him round to yours for 6pm tomorrow.'
This was a bit sooner than I had expected, but then music is my first love, after all. He's just a kid – I can teach him a few chords and then brush up on my skills over the coming weeks.
So I replied, 'Perfect I'll see him then.'
'Great. He is level 7, just so you know how to pitch the lesson. He's taking his level 8 exam in 2 weeks' time.'
So I Googled, 'What is guitar level 7?' and the description said:
'Pupils should be acquiring a greater range of physical and expressive techniques including damping, double stopping, legato and staccato, fretting and whammy bar vibrato, hammer-ons and pull-offs, as well as accents. They will be experimenting with a greater range of dynamics and continue to develop the ability to play with stylistic authority.'
And then I remembered that I only ever learned to play 'Wonderwall'. I had meant to do more, but never did, and now a freakishly talented 12-year old is turning up at my house in 5 minutes so I can help him prepare for a level 8 music exam.
So when he arrives, I need you to answer the door and tell him I've had to go to Bhutan last minute for a concert. Oh, he's here now. I'll just hide upstairs. Thanks!
---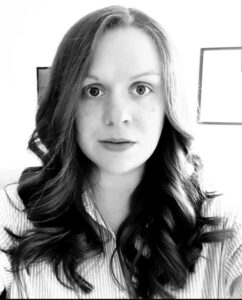 Tracey Hayward lives in London, and writes monologues, audio drama scripts and short stories. She has had her audio drama scripts produced by Ragged Scratch and Chronosphere Fiction. And has had a number of short plays performed at Scratch Nights in London. 
Twitter @traceyhayward11