Something had been niggling at me. All holidays are different of course, but there was definitely a missing ingredient to this one which had made the whole experience sweeter. The answer arrived on a terrace looking across to the thunderous Iguaçu Falls. And the answer was equally thunderous.
I heard him before I saw him. It was as if I had emerged from listening to Mozart only to be shoved into a room filled with a Stravinsky/Shostakovich mash-up. For several weeks, my ears had been gently nibbled by the symphonies of Spanish, Italian and French. But now huge cymbals crashed on either side of my head: the unmistakeable honking bray of the middle-class English on vacay.
For some reason, this man had decided that the best way to conduct a conversation with two young American travellers on the table opposite was to shout across to them rather than approach them. At least that way, the entire terrace could be the beneficiaries of his discourse. This, the terrace that was usually filled with the low buzz of conversation and chinking glasses or, more often than not, silence, as people sat in quiet contemplation at the majestic sight of the falls across the way. No natural wonder could eclipse this man, for, in his eyes, he himself was a natural wonder.
He strutted down the terrace, his personal catwalk, with his cigarette and mobile phone. Normally keen to chat to strangers, my husband and I suddenly became intrigued by our caipirinhas, as though attending a conference for mixologists. We made appreciative murmurs, not daring to speak for fear of revealing our common heritage. He seemed unconcerned that his toddler kept disappearing into one of the lounges, only to stagger back clutching a pool cue. The little boy wielded it as if it were a light sabre, causing passing waiters to quickstep out of harm's way. He also seemed unbothered that he had left his wife dining alone whilst he peacocked his way around the terrace, although I did wonder whether, for her, it might offer a welcome respite.
Even my children have developed a highly tuned braying-Brit radar. He swaggered into the lounge whilst they were playing pool and offered to show them how to play some shots 'correctly'. They answered with a frosty, yet polite, 'No thanks.'
This then, was what had been mercifully missing from our trip. I speak as a British person who has acquired some form of national dysmorphia and feel that I was born into the wrong country.
When travelling, I'm always keen to shrug off my own cultural coat and try on different ones. In Brazil, I became fascinated observing a group of French people. As an ardent Francophile, I was desperate to join their gang. Here was a group who drew attention, not by braying or posturing, just being. Here was evidence that you could be over forty, female and far from invisible. When they made their appearance at dinner, I sat there, slack jawed and hypnotised. I was the mortal gazing upon the immortals. The women hovered around the buffet like hummingbirds, lifting every lid and providing a gastronomic review of each dish to their party, their perfume intermingling with the aromas from the food. The men were a masterclass in how to wear a summer scarf – a secret code obviously bestowed upon all of them at birth. They attacked their food with gusto and revelled in their own bubble of pleasure and conviviality.
A glance at the table with the English patrons painted a different picture. The Botox had frozen all emotion, leaving just a hard stare to convey that it was a hard life: the gruelling Bikram yoga classes, the panic attacks brought on by looking at carbohydrates, the inconvenience of the hotel children's club not operating on a twenty-four-hour basis, and the shame of being married to someone who couldn't work a summer scarf. The only way to overcome these hardships was to talk loudly about whether one could get Lake Como to oneself next year.
I also spent a long time observing an Italian family on a beach in Mallorca. They arrived and spread themselves out. Instead of lying down to sunbathe, they stood about, chatting and laughing, the generations effortlessly mingling and taking pleasure in one another's company. They oiled themselves up to deepen their already burnished skin, handed around the cigarettes along with the ciabatta, and cared not where they were on the body spectrum of Rubenesque to Kate Moss.
They were loud too. But loud in a good way. This was another tribe I wanted to join. I closed my eyes and let their lyrical chatter wash over me, absorbing the musicality along with the emotion invested in it. Perhaps they were bragging. Perhaps they did, in fact, own Lake Como and wanted everyone to know that they were best mates with Domenico Dolce and Stefano Gabbana and that their apartment in Rome was a much higher spec than Roberto's around the corner.
But I prefer to think not. We'll leave that to we braying Brits and, in the meantime, I'll put in my application for a culture swap.
---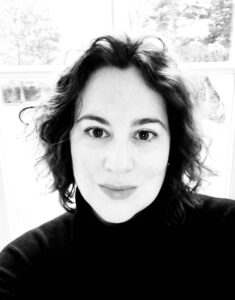 Emma Reed was a lawyer in a previous life but it killed her soul so she opted into a life of self-doubt as a freelance writer. She has written for The Telegraph, the iPaper and Metro. She was longlisted for the Bradt Guides New Travel Writer 2020. She was raised on a diet of Victoria Wood inspiring a lifelong love of comedy. Emma lives in Hertfordshire, but her spiritual home is France.
Twitter: @emmareedwrites  Instagram: @emmareedwrites