My hunch is confirmed during the New Year's Eve dinner party at a local restaurant, The Pink Pig, that overlooks the Hudson River. Of course, I'm with Bert, whom I've divorced in my mind hundreds of times, including tonight when he offered a snarky remark about my low neckline. Usually Bert's a moderate drinker. God forbid he loses control, but tonight he's ordering multiple Bourbons on the Rocks. And although I am halfway down the table from him, I hear a few words he is saying to my best friend, Roz. I catch his special tone of voice, that very personal half-whisper that signals I can only tell this to you whom I trust. I observe his eyes flicker from her breasts to her hazel eyes.
'She's the most perceptive woman I've ever met,' he says.
Who's he talking about?
Roz winks a tell-you-everything later signal to me.
Bert's voice drops as he leans in to Roz. 'My therapist. Actually, she's an analyst. She analyses writers and artists. I see them in the waiting room. Names you'd know in a minute.' He smiles. 'Roz, you should wear blue more often. It's your color. Lights up those eyes of yours.'
'Thank you, Bert. Does Sheila know about her?'
'Who?'
'The therapist.'
'Psychoanalyst,' he says.
'I stand corrected. Does Sheila know about the celebrities?'
'Not really. I can't reveal their names. That would be violating confidentiality, don't you think? '
He finally looks over at me. I turn towards Charlie, on my right, and tell him the beginning of a joke, but I'm afraid I won't remember the punchline.
'Are you alright?' he asks.
As I speak, I gaze at the river that divides this side of the county from the Palisades, now covered in a curtain of snow. I listen to the full-throated honking of tugs as they travel the difficult currents. I love it here. How long have I loved the Hudson River, the sailboats navigating past my home, the view of the Tappan Zee Bridge? Now that Bert is fooling around, I will insist on keeping the house. I also deserve the car, a new Toyota. I wonder how long he's been going to meet this secret woman analyst of his.
An image flashes into my mind: We're on our first date at the White Horse in Greenwich Village. The moment I walk in, he jumps up and runs toward me, wrapping his arms around me in a giant hug.
'Bert and Sheila,' I thought.
'This is the hang-out where Dylan Thomas recited poetry and got drunk with his friends, ' he told me.
We nibbled at hard-boiled eggs and sipped beers. Bert's dark brown hair is curly and I ran my fingers through his locks. Two weeks later I got fitted for a diaphragm.
Now, as I try to glom-on to his conversation, I pour myself more champagne. I pour another, then find myself tapping my glass with a spoon. I'm standing up, a scorned woman. I smile at the whole gang.
'Here's to deception,' I think I have thought these words, but realise from the bewildered looks aimed at me that I've said them.
'Deception,' I repeat.
'Deception,' they chorus with a titter of nervous laughter.
Bert bends down, pretending to tie his shoe-lace.
Later that night, the two of us go at it. Why? Why? Why?
His answer is convoluted and unbelievable: He wants someone all to himself, someone who's exclusively his. When he and I have had couples' sessions, the therapists always agrees with me. Whah whah whah – it's about time someone is totally on his side. And the analyst thinks he needs to have her exclusively, that I shouldn't finagle into their relationship.
I say my piece, which sounds more like an operatic aria than an argument, and he finally tells me her name: Dr. K. Few details are forthcoming, except that she is treating a world-renowned author of horror novels who has been going to her for years. His name? It's confidential. How old is the mysterious Dr. K? How long has he been seeing her? How much does she charge? Silence.
Four weeks later, Bert has to have a procedure on his right eye at Columbia Presbyterian Hospital. Drops are required four times a day and he is not allowed to drive. Who will take him to his therapist? How can he possibly miss a session? Humbly, he asks me to drive.
'Won't that reveal where her office is?' I ask. 'Or shall we drive to mid-town and park in a garage? That way I can have brunch in a restaurant while you make her way to her and back.'
'Could you pick me up?' Gone is the confident tone.
I raise my eyebrows.
'Come on, honey. She's on Central Park West. You can park across the street.'
I remember that he has helped me out in an emergency. When I fainted last year while cleaning the refrigerator, he ran to get his nitroglycerin, called an ambulance, and did not mention the soft celery and rotting green peppers when I came home. And so I relent.
We drive in silence from our home to upper Central Park West in Manhattan and arrive, only to find that all the spaces across the street are in a No Parking Zone from 8 a.m. to 11 a.m. Bert's appointment is at ten.
He kisses my cheek and jumps out of the car. 'I'll be back in an hour.'
I watch him enter the building and turn on WQXR classical music. Mozart. After twenty minutes I feel an urge to urinate. I tell myself I'm not feeling this urge. The more I attempt to persuade myself, the more urgent the urge is. Shall I leave the car and run one block west to Amsterdam Avenue? But who's to say I'll find a bathroom? Most restaurants only let their customers use the restrooms if they   order food. The longer I'm away from the car, the greater the chance we'll be ticketed and towed.
I run across the street into her building. Inside the lobby, I confide my dilemma to the doorman whose name is Arthur. He's a handsome Irishman with a white moustache.
'What'll I do? ' I whimper.
'Oh sweetheart, we have no restrooms in the lobby, ' he says in a soft Irish brogue,
'Do you have an employees' restroom?
'I couldn't let you go down there. It's not right for a young lady.'
'Oh God, Arthur, I don't care.' I'm tempted to grab my crotch and hold tight. 'I don't care! I don't care how filthy it is. I don't care if there are rats. '
His eyes light up. 'Dr. K has patients coming and going. I wouldn't be surprised if she keeps the door to her suite of offices unlocked. Shall we give it a try?'
We race toward her door, two conspirators. He turns the knob and the door opens.
'There you are, love. Problem solved.' He smiles and walks back to his post.
I stand at the threshold of a long hall flanked by many doors. It's dark. Which door is the bathroom? I tiptoe inside and listen at one door and then another. No sounds. No sobs. No sudden laughter. In desperation, I decide on the third door on the right and open it slowly.
Bert is reclined on a large easy chair. She sits opposite him. They both look up as the door opens. I get a glimpse of her – fiftyish in jeans and a yellow sweater.
'Who are you?' she demands.
Bert sputters my name.
'I need the bathroom,' I shout. 'Now!'
'What the hell?' he says. 'What the bloody hell?'
'Right now!'
'Down the hall,' she says. 'Door at the end.'
I run. Oh, the sweet relief of my urine flowing into her old toilet. Here in her bathroom, the tiles are black and white and the grout shows. The tan window shades are slightly stained and the sink has old-fashioned faucets. I am euphoric. My bladder is empty and I have never seen such an ugly bathroom. I return to the lobby, wave goodbye to Arthur and settle to wait in the car.
When Bert appears half an hour later, I suggest he say not a word. I vow I will not tell him my impressions of her or her bathroom.
'Thank you,' he says.
I am tempted to forgive him. I notice the bald spot that spreads toward the front of his scalp.
In my imaginary divorce proceedings over the coming years, I negotiate for a modern house facing the river that contains a magnificent bathroom. This room is papered in black and red. The sink is sleek and black. Next to it is a bidet. The tub is enormous with a built in Jacuzzi and I relax, my body enveloped in suds and ready for exploration. I often wonder if Arthur, my gallant doorman, is still at his post. I envision his lovely moustache and replay his enchanting brogue as my vanilla candles flicker gently.
---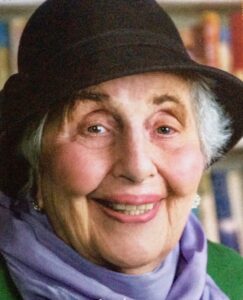 Joan Halperin has been published in Light Years, Passengers, Persimmon Tree and others. Now retired, she lives in Orchard Cove, a continuing care facility where she writes, paints, participates in improv and keeps in touch with family. Now in her nineties, she enjoys a vigorous life and urges all to pursue outside interests in a passionate way and so stay youthful.