DIY. Another word for die? Do It Yourself. Either way, it sounds ominous.
Prone to online shopping sprees, I have evolved from purchasing "pleasure items" to products for the home, which hold particular interest to me. But there are two words that have stopped me from impulse buying in the past: Assembly Required. Not only do I lack the knowledge, confidence, coordination, and physical strength, but I have never invested in power tools. I don't even own a glue gun.
When I considered putting my house up for sale, I interviewed realtors, home stagers, and contractors and weighed up their suggestions. "Nice house", "good appliances", "good use of space" and "it just needs some cosmetic updates". Cosmetics are lovely, I thought, but "cosmetic updates" means "change everything".
Firstly, they suggested I remove the bookcases and artwork. I hated this idea because, after "paint the entire interior of the house", the books and artwork were not to be put back. Apparently, empty walls were "more appealing".
Then I was told to replace the entry chandelier and put in recessed lighting. I spoke to contractors and shopped on Amazon. It was not going to happen.
"Replace floors, vanities, mirrors, and kitchen countertops. Replace all lighting over vanities, kitchen island, dining room table, and sitting room, and change the wiring for the kitchen table chandelier to be centered and fifty-two inches from the front wall. Change all faucets in the bathrooms and kitchen, and add more recessed lighting." I looked through this detailed list of suggested inside work and asked myself what improvements I could possibly do myself? The old globe-less fixture with the ceiling fan that hung over the beautiful but intrusive kitchen island had to go. I had also been told to move the island itself out of the way over by the wall.
Then I saw the magic words: 'No Power Tools Required'. Yes! I could do this. Or DIY trying.
I chose a modern farmhouse chandelier light fixture that matched my vision as well as the rest of the kitchen: a rustic metal candelabra painted to look like oak with easy-to-reach-and-change light bulbs and no clumsy globe. It arrived within two days and I stared at the box for a week before opening it. Then I tackled it in a Zen-like fashion, unpacking all the parts and pieces and spreading them out on the rug.
Some instructions are better than others and I do better with words. Unfortunately, this was mostly pictures. I went ahead, using all the pieces and the correct screws, but something didn't look quite right. My vocabulary consisted of "huh?" and "oh!"
I needed to attach the four-piece rods with eight screws in three different places before pulling wires through the part labeled "middle". The angles of the wooden-looking metal frame jutted out in the wrong direction. Huh? Oh! I had attached all the parts backwards. No matter, I was ready to embrace a do-over, and voila – ready for wiring. "Requires licensed electrician to install". Oh.
After Roy, the electrician, had installed it, the chandelier hung well over my head with the chain as short as it could go from the ceiling. But I noticed that he kept walking around it. Because the oversized kitchen island had been moved next to the wall, anyone taller than me who crossed the space would bang their head on the new lamp. I now needed to build a smaller kitchen island to fill the space.
After looking through Facebook Marketplace for 'used small kitchen islands already assembled', which is essentially cheating in DIY, I ordered one from Home Depot. It arrived in three separate boxes. I moved them to clear egress through the doorway. The heavy one I gently nudged, dragged, and tucked behind my entry bench next to the wall. Then I stared at the boxes for a few days. I wanted the top of the island to match my new and not-so-wonderfully-professionally installed quartz countertops. (I had caved on that item, but they were pretty. They were white with sparkles that caught the light like diamonds.)
For the small island, I chose a white granite stone top which I knew would be the hardest part to lift and assemble, given the thirty-five-pound weight and delicacy of the stone, which I would later have to match perfectly with the very small 'cam bolts' to the holes. I didn't know a cam bolt from a barrel nut.
The panels and doors of the island were solid wood with a light cherry finish. The black side towel rods matched the candle tubes of the light above. The hardware list of parts was extensive, although not 'nine hundred pieces', as one Amazon reviewer claimed, and, thankfully, words accompanied the pictures in the instructions. The screws and bolts aligned with the holes after many attempts, but the barrel nuts and cam locks were on a higher learning curve. In the end, I did everything correctly, except that I assembled the drawer backwards. So much for DIY in the kitchen.
After my male Jack Russell Terrier with the big heart and equally big bark died, I decided I needed a security system. My other older female, Megan, is deaf and not much help at guarding my possessions. After prolonged research, I decided wireless was the way to go. I ordered a SimpliSafe System. Great! Simple safety on the way.
It arrived and sat in the box for two weeks while I stared at it. One day I stole a glance at the directions. Nope, not for me. I called the tech services department for a professional to set it up. Then I got sucked into membership, which resulted in an additional four hundred dollars. I took another look at the directions, canceled the appointment, and was refunded the membership. Now I was committed to doing it myself.
Step by step, according to directions and not getting ahead of myself, I unpacked the box and downloaded the App. There was an App! Technology is a separate challenge, but I persevered.
This was SO EASY! However, right at the very end, a power tool was required to install the outdoor camera into the siding of the house, and I had to pay a modest fee for a handyman to do that. But I didn't mind, I had achieved so much on my own and had many very proud notches in my DIY toolbelt.
---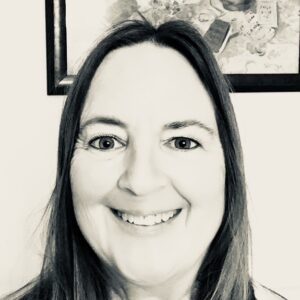 A.V. Arsic is an award-winning magazine publisher and editor. She received a short story Honorable Mention and was Longlisted for Glimmer Train. A.V. Arsic has been published in Virtual Zine and Reflex Fiction and is an alumna of Curtis Brown Creative. She's a regular contributor to Funny Pearls.