As I enter Featherdale Wildlife Park, a small rustic zoo outside of Sydney, I'm beyond excited. I've been in Australia for about a week. I've already visited Taronga Zoo, a stunningly beautiful, state-of-the art, zoological park complete with a Sky Safari, a tram that takes you high above the zoo, revealing an aerial view of the whole park, as well as the breathtaking panorama of iconic Sydney Harbor. I'm especially fond of zoos dedicated to wildlife conservation and I've visited quite a few over the years. Taronga Zoo is among the most spectacular.
Featherdale isn't quite so grand and it takes an exceedingly long bus ride to get here, but my enthusiasm for this excursion was piqued on a recent tour when I happened to sit next to an American college student who was spending a semester abroad. He told me Featherdale was well-worth the trip because it's a sanctuary for animals indigenous to Australia. 'At Featherdale you can feed the kangaroos and the wallabies,' he said. Then he told me something almost too good to be true: 'You can even touch a koala.'
At Toranga Zoo, I could see the koalas, but I couldn't touch them. I just gazed longingly at them from a distance and fell madly, passionately, hopelessly in love. I was smitten. Like a pre-teen who, at first glance, starts crushing on a boy band. Not a particular musician in the band, but the whole band. I became koala obsessed.
Now, as I am walking through Featherdale, I notice a lot of really interesting and unusual creatures, but, before I can focus on them—or even on feeding the kangaroos and the wallabies—I desperately need to touch a koala. So, as quickly as I can, I locate the section of the park that houses koalas.
The koalas at Taronga Zoo were in a beautiful natural habitat with extremely tall elegant trees. At the very tippy tops of the trees I glimpsed the koalas perching like little fur balls high in the sky.
Instead of elegant trees, Featherdale has little booths for the koalas, like miniature movie sets. Each booth has a koala perched on a man-made stump-of-a-tree with plenty of eucalyptus leaves for it to eat. The stubby little trees mean I can see the koalas close up, pretty much face-to-face. The closer you get, the cuter they are. I am totally fangirling.
Finally, I see the little booth where they let you touch the koalas, only to realize it's a pay-to-play photo op. You can touch one, but only while posing for a $25 tourist photo. I have absolutely no interest in a whole set of fancy tourist-trap photos of myself, but I'm on a mission: I need to touch a koala.
So, I get in line to pay for my photo op. When it's my turn, the photographer says, 'If you give us your phone, we'll take additional pictures, so you can text them to your friends.'
As I stand next to Victor the Koala, the photographer shows me where I should touch Victor's luxuriously fluffy butt. My fingers sink deep into his incredibly soft fur. I am totally besotted, love-struck at first touch. I don't want to leave, not ever.
Through my koala-induced euphoric haze, I hear the photographer tell a young family with small children that it's their turn. She politely hands me my phone. I take the hint, thank her, and slowly step away from my beloved.
I open my phone and stare at the photo of Victor and me. I'm shocked at how blissful I look. I honestly don't remember the last time I looked that happy in a photo. So, like any pre-teen who just had a close encounter with her boy-band idol, I text the photo to all my friends and family.
One of my particularly perceptive friends texts back, 'I can see you're in love with the koala, but the love seems to be going in one direction.' Sure enough, I'm in a full fangirl, love-sick swoon gazing at Victor, but his ardent gaze is directed toward the eucalyptus leaves he's clutching in his adorable little hand. It seems my relationship with Victor the Koala is not unlike my relationship with a lot of other men in my life.
But there will always be a special place in my heart for Victor.
---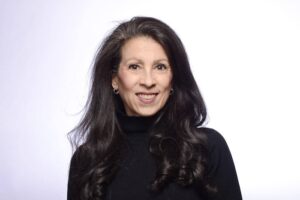 Wendy K. Mages, a Professor at Mercy College, is a storyteller and educator. She performs original stories at storytelling events and festivals in the United States and abroad. Her stories appear in The Journal of Stories in Science and Potato Soup Journal. A triptych of her poems appears in Scenario.

Illustration by Unsplash.