---
'You really need to count your steps,' or so I was advised,
as if, by counting them, I'd suddenly be surprised
to acquire the perfect contours I had so long awaited
I was triggered by this vision, energized and motivated.
So I downloaded the app onto my mobile phone,
then provided it with data which I had previously not known:
length of stride, shoe-size, weight and size of bra
(this last bit is a lie, I'm taking things too far),
phone contacts, photos, voice recordings and locations.
This app knew more about me than my close relations.
And with it in my phone now firmly embedded,
I mentally prepared myself for what I´d always dreaded.
I aimed to tone my body: stomach muscles, even biceps,
and all this achieved by just walking ten thousand steps.
I know this sounds like counting eggs while still incubating,
but I was fired up, you see, my new physique was waiting.
I soon learnt that counting steps became a bit obsessive
and instead of making progress, my behaviour became regressive.
It's 16 steps to the loo (16 back make 32):
Twelve trips thus provided me with enough cals to eat
 100 grammes of chocolate, a veritable treat.
And if my chocolate craving was not quite in remission,
I could drink more liquids for more frequent micturition.
There are just 12 steps from the sofa to the fridge:
Six calories per fridge-visit was absolutely fine.
I needed only 38 trips to burn off a glass of wine.
But from the loo to the fridge is a longer distance,
I could double my wine-consumption with the least resistance.
Time was ticking by, and I wasn't getting fit
but my maths was making strides, to this I do admit.
And then I reflected on great women in the past.
I'm sure they didn't dally counting footsteps they amassed.
I can't see Boadicea wielding her flaming sword
while glancing at her telephone to check her step-record.
I can't conceive of Mary alighting from her mount,
And telling Joseph she has to walk to reach her number-count.
It's hard to think of Margaret pacing Downing Street
and informing husband Dennis that she has a goal to meet.
And so I gave my app some consideration
and decided to delete it, after much procrastination.
And instead of all this dithering, of talking all the talk,
I donned my brand new trainers to really walk the walk.
---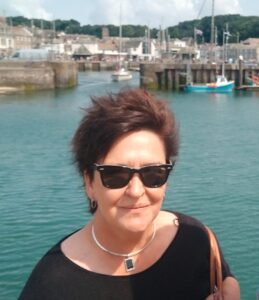 Nuala McEvoy started to while away the long pandemic hours by writing daft poems, and now she has a stash of silliness on her computer. She hopes that by sharing her ramblings, she will raise a smile or two.
Image via Unsplash.