THE FUNNYPEARLS SHORT STORY COMPETITION
---
Thank you to everyone who took part in our first competition. We have had a riveting month reading the stories, which were everything we had hoped them to be, and more. Today, we are proud and delighted to announce our winners.
***
FIRST PRIZE
Rebecca Kelly
'MEMENTOS'
RUNNERS-UP
Kate Felix
'MADAME AND YVES IN THE GARDEN OF DARKNESS'
&
Michele Sheldon
'MARLON BRANDO ON MY BREADBOARD'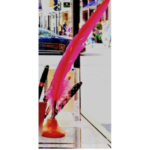 The winner and runners-up have been notified and their stories will be posted on funnypearls.com next week.
We would like to thank everyone who entered the competition and all of those who were kind enough to help promote it, including creative writing schools around the UK and our friends on social media.
Philippa & Mette
---