My name is Jacinda Braithwaite. You may have heard of me from my recent hits Wine In A Million Accident, Red Red Wine Went to Jacinda's Head and my all time favourite, Should've Braith-ed Herself. Every news story found something tragically mirthful in the fact that a woman who ran a wine bar on Sloane Street was hoist by her own petard, so to speak.
I didn't find these headlines until much later, after I'd left France, returned to London and realised that, unfortunately, I was dead. 'She was always cheerful,' said one of my ex-employees, 'always had a glass of bubbly in her hand or a bottle of her favourite pinot noir. She loved the good life.' Made me sound like some old lush who was drinking away her own profits, which, as anyone who knows me will tell you, is an outright lie. You cannot run a successful business if you need sunglasses to open the curtains in the morning.
Once you're dead, it seems, people are free to say whatever they want about you. Of course, they do that while you're alive too, grind you down over time until you are just pieces of ash, which I might well be these days. I have completely blanked out memories of my funeral which, I suppose, is one of the perks of being recently deceased.
'She was always well coiffed,' one of my favourite backstabbers said through a veil of tears (I'm quoting the gutter press here), although that very same person once had the brass balls to say my hair was not so much 'styled' as 'chiselled'. My former neighbour claimed that I 'had a penchant for younger men and rude jokes,' (well, okay, that one was true), adding that 'She was such a merry divorcee, always out and about, happy to be well rid of her husband.'
That gave me a pang of pain, as much as the dead can feel pain. My floppy-haired Hugh Grant-alike-in-more-ways-than-one ex-husband, Rupert, had been on holiday with me in France when I had my moment that turned the tabloids tipsy. It was actually a wine buying sortie but at the last minute we threw in a few days extra to drive around Bergerac, stuff ourselves on rillettes, goat's cheese and of course, superb local wines. We drove with the top down, inhaling the warm, scented air while giddily planning to sell up in London and move the business there, to the wine country. It was like we were twenty-two again, living in that shared flat in Chelsea with the two addled-brained trustfunders whom we cajoled into ploughing half their inheritance into the wine bar.
No one knew Rupert and I had been seeing one another again. But we had both found it impossible to be with anyone else after thirty-five years and two children together. The decision had felt not only right, but like the only one. The first time we kissed again, I realised I'd been floundering around in the ocean. He was the life raft that I'd set adrift, brought back to me on a gulfstream current.
As you might imagine, I was bloody furious when it became clear to me that some random tsunami had washed Rupert away from me again. Having a giant metal vat of wine come down on your head as you gaily pose for a photo, prone on the floor like some dizzy girl in love, pretending to be glugging from it, is not the way I had intended to go. I hadn't wanted to go anywhere, I was done being alone in the world. And now, here I am, wandering in another kind of world with a new social status for Facebook: Jacinda is currently dead (no emoji for that one).
I'm still struggling with this newly deceased status. I feel like I'm in the world but no one can see me. People pass through me. Am I even there? Do I resemble mist? Am I nothing more than a slight shimmer?
Today I dropped into my wine bar, sat at a table perusing the wine list. No one noticed me. I sauntered behind the bar, opened the cash register and counted its contents – we're still doing okay, luckily my wine-soaked death hasn't affected the boozehounds – and some poor chap got in terrible trouble for leaving the till open. There was an abandoned glass of wine on the counter. I stuck my nose in it and inhaled, but that particular sensory perception seems to have died with me. No notes of dark cherry, vanilla and oak cask. Not even a smidge. Seems there's no perks at all in the afterlife.
To be perfectly honest, being dead can feel the same as being alive. If you're a slave to the Clairol bottle and Boots' anti-age facial serums, yet still invisible to the opposite sex, being dead won't really come as a shock to you.
Rupert is in the wine bar office, my old territory. There are photos of us all over the walls, photos of the children throughout the years, Wine Bar of the Year awards (several times), photos of our last trip to Bergerac. Rupert looks the same, his hair still floppy, though a little more salt and peppery than my last memory of him. How long have I been dead? Craning my neck, I take a sneaky peek at the diary on his desk, as if he's going to see me. The date is March 20. March? But we were in Bergerac in June. June. Gosh, time flies when you're six feet under. Or parked in an urn on the mantelpiece. No, he wouldn't do that to me, would he?
I sit watching him, the way he keeps running his hand through his hair, pushing it back only for it to fall forward into his eyes again. He looks tired, his eyebags are heavier than my old makeup bag, he looks like he needs a holiday driving around France with the sun on his skin, popping olives into his mouth, wondering if it's okay to have a beer when it's not even lunch time.
A woman comes into the office, a box of wine in her arms and he jumps up to take it from her. It's our daughter, Claire.
'What on earth are you doing here, darling?' I ask. 'I couldn't get you to even have a drink in the bar never mind work in it.'
'The new rosé from Provence,' she says. She smells of Mitsouko, my perfume.
Claire wanders around to his side of the desk. 'How's Mum today?' she asks.
'Darling, I'm here,' I answer, but she ignores me.
Rupert smiles, his hair flops back down over his forehead. 'She's marvellous,' he says, and his hand pats a silver box on the desk. If there was a TV camera around at this very moment, I'd be giving it some seriously heavy side-eye.
'You put me in a box?' I glare at him. 'A box? On my own desk?'
Claire starts unpacking the wine, examines the label and holds a bottle up to the light. 'I'll put one in the fridge and we can sample later,' she says, 'I better get back to the order.' She taps the silver box with her fingertips. 'See you later Mum. Love you.'
After she leaves, Rupert puts on his overcoat. I smooth the lapels of his coat, as I've always done, run my fingers through his hair. 'You were right, you clever old girl,' he says, 'Rosé is the next big thing. Even the rock stars are at it. That Top Gear chap drank a whole bottle of it the other evening.'
'I was wrong to leave you for five minutes,' I reply, 'and now it's forever. That's not very clever.'
His eyes linger on my final resting place. A knot forms in my throat as he kisses his fingertips and caresses the silver lid. 'It's lovely to have you here, darling,' he murmurs, 'in any form.'
The door to the office closes.
On that fateful day in France I had turned to him, as we raced through the countryside towards my freakish doom, my freshly Clairoled hair flowing out behind me, and shouted, over the breeze and the roar of the car, 'I love you Rupert, I loved you from the moment I met you and I will love you until the day I die.'
If you've ever wondered what it's like to be dead, I'm here to tell you that death changes nothing. Love survives. Rupert might not be able to see me, but love – our love – is to be seen everywhere. If I could write my own Facebook status, it would be: Jacinda is still dead but she's learning to live with it (heart emoji).
---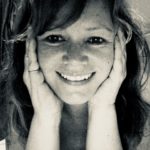 In a previous life, Basia Wolf worked as a journalist and features writer for a top news agency, women's magazines and an American rock & roll magazine. Now she is devoting her time to writing her debut novel, a young adult/crossover thriller. Her website is https://basiawolf.wordpress.com/ – she can be found procrastinating on Twitter @BasiaWolf