They made statues of us all last year, so we must be famous, like Nelson on his column or Liberty in New York, though fortunately nearer the ground, as I for one suffer from vertigo. Mine is in the park at Morpeth in Northumberland, sitting on a bench. Huh! They probably chose this place to rub in the fact that I didn't get to use the return part of my ticket from London. Or at least I did come back by rail, but in a box, unfortunately, accompanied by huge processions at either end, so they could probably have got away with charging me double for holding the train up. On that trip I had simply wanted to pin the colours of our cause onto the King's horse, but it came thundering along so fast that I could barely see the red sleeves of the jockey I was looking out for, and I didn't have a chance.
Ray, my welder, didn't just plonk me here without ceremony, you know. As soon as I was in place, there was a grand unveiling – a right hoo-ha. Like in an art gallery revealing a beautiful painting, my cover was lifted away in front of a crowd of besuited men and ladies dressed to the nines in their best beribboned straw hats like a flamboyance of flamingos. I went for the understated look: an elegant bonnet and flowing gown in weathered steel. A smart lady they called 'the Duchess' gave a speech about equality, so that was right up my street. I've got a special signboard too. It says I am 'Emily Wilding Davidson, Northumberland's lawless lassie', but I'm not sure that chucking a few rotten eggs at politicians quite merits that accolade!
I don't really recommend sculpture-hood. It's not that I have any objection to Ray, my welder, having bolted me down, though he was very apologetic about it. After all, I have been firmly chained to metal before, at least in the form of railings, so quite similar really. The problem is that I can't then get away from the riff-raff. People come up to me wearing rough blue trousers, all ripped with their knees showing through the holes, looking like over-age street urchins. Then they point little rectangular objects at me. They must be cameras, I suppose, though they don't even have any bellows or film plates in them. One of the men even put his arm round me and directed it at both of us; technically it was an assault on my person, but to be frank I've had worse indignities, like being dragged out of a demonstration between two policemen – not much decorum in that! Once they have their picture, the visitors ignore me and each other, and talk to their cameras instead, making me fear for their sanity.
I do like it in the early mornings though, as that is when the park keepers feed the sheep that live on the hill. We all know that they usually eat grass, but a bucket of food causes a stampede that helps us count to ensure that all eight are there. They are rare black sheep – exactly what my family used to call me, come to think of it. Never mind, at least I know my descendants like me, because one of them was looking quite puffed up with pride at that hoo-ha I mentioned. The keepers start the day cheery and then it all goes downhill as they insist on telling visitors about my time in Strangeways, when the cell was flooded with water because I barricaded myself in. Freezing, that was! Then they point to the dish of spilled food sculpted on my bench here to represent my hunger striking days. I guess if they had modelled me with a tube down my throat, with the warders pouring choking egg and milk into a funnel in the top of it, it might have put people off their sandwiches. Looking back, maybe it was the eggs I threw at the MP taking their revenge.
I see they have planted purple salvia and creamy white foxgloves out in the garden here, mixing in with the greenery to make up our suffragette colours. With all that beauty around me, I don't usually mind being seated, apart from sometimes feeling a bit lazy, like a bench potato, and the old brain cells getting rusty, along with the rest of me of course. I must say I was pleased I didn't get Anthony Gormley. Standing with outstretched arms would get excruciating after a while. Anyway, I can assure you, I am no angel of the north.
Emmeline Pankhurst's statue is apparently standing on a chair in Manchester, holding forth as ever to rally a crowd. A chair! I can assure you that I have never seen her climb up onto anything less than a stage, a platform, or at the very least, a grand vehicle, so I bet she had something to say about that. Millicent Fawcett has managed to get into Parliament Square. She would probably give me a slap if she were here and tell me that reckless actions wouldn't get us the vote; certainly true in my case. Her statue is holding a banner, which is quite suitable I suppose, since her suffragist lot were always about words and not deeds. I'm not sure how far they would have got without us suffragettes stirring things up. I assume this current statue-making frenzy means that the cause was won a century ago, which was, sadly, after my time. I've heard there have even been female Prime Ministers. They say the first one was even more iron-fisted than I am, and that is something, given my metallic anatomy.
For those of you who want to achieve fame, then follow your dreams, find a cause worth fighting for, and give it your all, but remember you might find yourself encased in frost with a foot of snow on your head one day.
---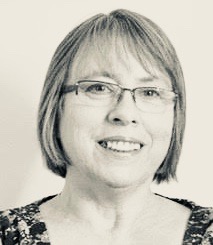 Words and image by Susan Dawson.
Susan was encouraged to have a go at short story writing exactly a year ago, when she attended a WEA creative writing course. In July she won the M J Meads Short Story competition. This story for Funny Pearls was inspired by Susan's work as a volunteer photographer for Sculpture UK. She finds that her new interest in writing and her more longstanding hobby of photography often complement each other, and blogs about both on www.susanpics.com.