I catch him online late at night, staring yearningly at pictures of…California.
He moved to the frosty Northeast for me. So yes, I feel guilt. When I ask who'd keep him warm at night if I weren't around, he responds:
'California.'
The radiators hiss in the morning, and so does he as his feet hit the biting cold of the floor. He curses his way through December, retreats into a cocoon of flannel come January, and barely speaks at all for most of February.
'I'm worth it, though…right?' I ask. With each new layer of snow, he takes a little longer to reply.
---
Joint winner of the Funny Pearls 100 Word Winter Competition.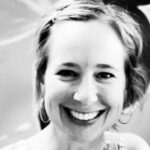 Meg Pacelli believes in the power of words, and likes to shape them into stories. She writes flash fiction and short stories in a variety of genres and copy for creatives and small businesses. She lives on the NH Seacoast with her husband and two daughters.