This story by K R Reeve was shortlisted in the Funny Pearls Short Story Competition 2020. We are proud to share it with our readers. 
---
To:
ChairOfGovernors@stjudesprimary.wessex.sch.uk,
Head@stjudesprimary.wessex.sch.uk
Subject: "Jingle Jolly" – mishap
—————————–
Hello both,
Now that the New Year is with us and everyone is out of hospital, I thought I should write personally to explain and apologise about the events of the pre-Christmas period. It was all a terrible accident – and I think the police believe that now. Certainly, they've said they won't need to see me again. I understand, however, that the Deputy Head is still facing charges following his ill-judged leap from the climbing frame. I didn't see that myself, but I can't imagine that he intended to assault Councillor Patterson. I heard that he was chirping before he launched, so I believe him when he claimed he was attempting to fly. I do hope the Councillor's neck brace didn't impede his festive fun.
But I am getting ahead of myself, so let me go back to the beginning.
As you may know, Matthew is my youngest child and there is a gap between him and his sisters. Matthew means 'Gift from God', which is a bit of a joke between myself and my husband: after all, you can't really call a child 'drank two bottles of Merlot and failed to wait for the vasectomy to take'. We are where we are.
My older daughter left for university last term, but obviously their terms are shorter than yours, so she was already home and settled in for Christmas by the time of the "Jingle Jolly". It has been nice to have her back again, despite everything that's happened.
My younger daughter loves to cook and bake and hopes to go to catering college. Patisserie and celebration cakes are her main thing. Not so much biscuits and traybakes. I should probably have known that. I was just glad, when I got home from decorating the grotto on the Friday evening, that there was a cake tin ready for me to grab for the "Jolly" refreshment stall.
I was aware, at that point, that my senior child was planning a night's camping up at the farm with some old school friends. It would be cold, I told her – it was nearly the solstice – but apparently they were going to light a fire and look at the stars. And probably get royally drunk, I thought, remembering those more innocent times when I tucked her up at night with a story and a teddy. Still, it turns out that the bargain cask of industrial vodka I imagined was not enervating as what they had planned.
It isn't clear who dropped off the tin of brownies with their camping equipment – and at this point, no one is owning up. I suppose I should have suspected something when I opened the tin and saw that each square had a rice paper topper of Shaggy or Scooby on it. That's nice, I thought, the children will love that: the mystery machine is still very popular now, even after half a century on the road.
I think it's worth emphasising how eternally grateful we should all be to the PTA for skimming them off the donation table and putting them out with the refreshments for the helpers setting up. NOT out for the children. We all know what little demons they can be just on sugar. I was a bit peeved that the brownies weren't going into the main sale, but the ladies in the kitchen said it was good for the helpers to have a pick-me-up just before the "Jolly" got going.
The first I realised that there might be a problem was when I saw the Treasurer come pirouetting across the parquet with a knife in each hand. I think I speak for everyone when I say how relieved I am that no one wanted to play 'William Tell' with her. That should be apples not tangerines anyway. I was impressed with how many the Secretary managed to get in her bra, however.
It was while the Site Manager was trying to talk Mrs Nicholls down that the Deputy decided literally to climb the walls. I had no idea he was such a keen twitcher, but I'm told his bird song was certainly very impressive. I can barely tell a robin from a wren, so I was surprised that Cllr Patterson's complaint against Mr Roberts revolves around his allegedly being a kestrel at the time he flew at him. What possible motive could Mr Roberts have for trying to harm his local councillor at such a convivial family event? I'm sure it's just malicious gossip that the Councillor was behind the late licensing of that pub next door to him (which, incidentally, was where my younger daughter had been the previous evening – watching an AC/DC tribute act).
Obviously, with all the action building in the main hall, it is understandable that everyone omitted to check on Santa in his grotto. This is such a charming event we governors run, and the little children really look forward to their slot. All the twinkly lights and the magic of meeting the big man. With my interior design skills, it's no surprise that I am always asked to harness my creative energies into transforming the small meeting room into a little piece of the North Pole. Mr Douglas made such a convincing Santa – I was delighted when he volunteered at our last governors' meeting to take the suit. It is very positive for the school environment when non-parent governors are so involved (and also for the parent ones – I'm sure no one minds that I slip my business cards into the little gift bags with a shower of elf dust!).
Mr Douglas is such a calm, friendly man. I think we were all surprised at the things which came out of his mouth. There's misspending your youth, and then there's setting it on fire and blowing the smoke in the face of a country with the death penalty. He was lucky to just get repatriated, if you ask me. 'Teaching English as a Foreign Language' must be one of those euphemisms they didn't tell us about in 'Safer Recruitment' training.
That said, I'm not blaming him for what happened. He said he hasn't touched anything for years. Still, it does seem to have had a particular effect on him – as well as on the four children locked in the grotto with him. It's a shame that they had to be told he was only pretending to be Santa, but better that they have one dream smashed than that they are harrowed by Yuletide forever. I understand that counselling has been provided so that they understand the elves are not actually going to come and steal their teeth. Neither is Santa's beard sentient and trying to suffocate him. I would, however, like to take this opportunity to commend the kindness of Greta in year 2 for offering Santa her inhaler when he started to hyperventilate. Lucky she was there, really. I'm sorry her parents don't take the same view and have already transferred her to St John's.
I'm not sure who made the first call to the emergency services. Everyone was certain that both of you – Head and Chair of Governors – were on site somewhere: several of us had seen you both during set up and your cars were still in the car park. And of course, you would be present at such a festive, family, fun event – one which helps to make such a community of the school and raises valuable funds. I imagine it's one of the year's highlights. I saw the tears in your eyes as you listened to the choir warming up, pretending to forget the proper words, those terrors. It is strange, then, that no one could find either of you when the screaming started, so there was rather a delay in establishing 'Gold Command'. And in opening the lower gate so the ambulance could drive up to the hall doors. Which might have been very dangerous, had Cllr Patterson's injuries been as serious as first feared. It was fortunate after all that Mrs Nicholls had been on the sausage grill because, when the fire engines turned up, they could break the gate for the paramedics. I've never seen so many blue lights in one place. If only we were closer to the sea, we could have gone for the full set of emergency services. (People always forget about the coastguard.)
It was foolish of us not to dispatch runners to the old portacabin at the other end of the field, but no one thought that you might have gone there to collect prizes for the 'Pin The Tail on the Christmas Donkey' stall. Or that the prizes would be stored so inconveniently – and damply. I'm sure that one of the parent volunteers would have been happy to collect them, notwithstanding the 'temperamental' nature of the lock. Unbelievable that there was no mobile coverage over there that day.
I know that, since the "Jingle Jolly", there have been calls for me to stand down as a governor of the school. I've received some pretty eye-watering emails, I can tell you. But we should view this as an opportunity to learn together and move forward for the improvement of St Jude's. I feel particularly that my little mishap has highlighted some oversights in the risk assessment process and, with my 'Health and Safety Governor' hat on (probably a hard hat!), feel that I would be failing in my duty if we did not look into addressing these immediately. After all, my Matthew has several more years with you and I need to think about his well-being (not everyone can afford St John's).
I know that you both wish to meet with me next week. That will be an ideal time to start on this plan, rather than discussing 'my future' as you previously suggested.
My younger daughter sends her best wishes, by the way. She works Saturdays now at 'Les Deux Amants' Hotel and Restaurant where they have been offering a fantastic six course tasting menu for lunch over the festive season. Michelin stars all over it! She tells me the name is derived from an old Breton poem. I am not familiar with it, but perhaps you can tell me how it goes?
She did come up trumps for me, by the way. When I got home from the "Jolly", I found a lovely ginger cake in another tin, iced with snowflakes. After all the excitement, it was most restorative with a cup of tea.
I look forward to next week's meeting. Perhaps I'll bring a slice of something?
Yours,
---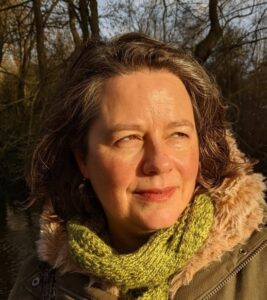 Previous short fiction by K R Reeve has been commended by December House and Brittle Star and published by the latter.  Non-fiction has appeared in the magazine 'The Green Parent'. K R Reeve has a BA in English Language and Literature, lives in Hertfordshire and enjoys translating dead languages.  She is no longer Chair of Governors. Sometimes remembers to tweet @K_R_Reeve