'What about Jeff Koons? He's not in your book and he's a major figure on the scene.'
Clea Roth knew that her mother, Bernice, had fought all her professional life for the beauty and integrity of art against vulgarity. Ten books and counting, hundreds of columns, a blog her daughter managed, yet someone in the audience always asked about Koons. Clea waited for the rebuke.
'I left him out of the book because he's a fake. Do you expect me to watch The Da Vinci Code because it's made money? That's all I have to say.'
Clea rose to help her mother down from the podium. An old man in the first row was waving a white cane.
'If you want to ask a question, repeat it good and loud! I'm half deaf,' Berney shouted at the man. 'And I forget names. Otherwise, I'm all here.'
'I was just wondering…'
'Don't wonder. Buy the book. That's it, people.' Berney took her daughter's hand to step down from the podium, her toucan-feathered hat in one hand, carved walking stick in the other.
Clea followed after the old man as he tapped his cane in front of him, hurrying down the aisle to catch up with her mother at the back of the auditorium.
'Berney,' he called, waving his cane.
Berney lowered her tinted, goggle-sized glasses. 'If you look on the cover of my book, it's Bernice.'
'Berney Roth, I'd know you anywhere even though I can't see so well.'
'Go on, spit it out,' her mother said.
'I took this picture of you before I shipped out for Germany. I've never forgotten our week in San Francisco. I keep the picture by my bed to kiss you goodnight.'
Clea saw her mother squint, considering the picture the old man held out, a black-and-white glossy photograph of a curvaceous beauty with wavy shoulder length hair wearing a fur jacket. It was hard to believe that the beauty could be her mother and she worried that Berney would burst into laughter.
'You're mistaken. I never wore fur. Long before it was fashionable not to.'
At least she didn't laugh, Clea thought.
'Yes, you did. It was a cold day, Berney, but I warmed you up.'
Clea watched the exchange. Few people believed that her mother was in her mid-eighties, but the elderly gentleman looked his years.
'Show me the picture.' Clea stepped toward the man. 'I'm Bernice's daughter.'
'I met Berney in San Francisco the week before I shipped east for the war. We fell in love. Seven happiest days of my life. Never stopped thinking of her. Is she still so beautiful? Eyes aren't what they used to be. But I still see her in here.' He tapped his head.
'My mother was in California during the war, I know that. And yes, she can still turn heads.'
'Berney was smarter and more educated than me, but she loved me – at least for one week.' He wiped his forehead with an ironed handkerchief. 'When my son read in the paper that Bernice Roth was giving a talk today, I couldn't sleep all night. We were crazy about each other. Just ask her if we weren't.'
'I will, and I'm sure she's happy you came to her reading.'
Clea had been following on her mother's heels for the entire book tour, smoothing feathers ruffled by Bernice's tart words. Thankfully San Francisco was their last stop – only a handful of people were coming to her readings in bookstores, which increased her mother's crankiness and perhaps contributed to her forgetting the names of the artists she wrote about. It was time to go home to New York where Clea was now living with her mother.
Bernice had called late one night and demanded, not asked, 'Come live with me in Manhattan.' When Clea hadn't immediately refused on the grounds that her family needed her, her mother added, 'Don't bring the children. There's no room and they're old enough to fend for themselves for a few months.'
Her mother gave no reason, never said 'I need you' but Clea had recognized the warning signs, including calls from the doorman that Ms Roth wasn't stable on her feet.
Her mother had developed a few other health problems before they started the tour, but she wouldn't consider cancelling. Bernice's cast-iron stomach and her trencherman's appetite had given way to picking at her food and frequent trips to various hotel bathrooms, cursing that they were never in the same place. Long skirts hung on her hips, even her shoes seemed too big. She didn't weigh herself and she refused to see a doctor. 'I won't put my inner workings on display like a goddamn Francis Bacon,' she said.
'Clea! Help!' Clea heard her mother call.
'Mother? What's wrong?'
'Walk behind me, spread your skirts. Where's the goddamn bathroom?'
From behind, the old man gripped Clea's arm. 'I have more pictures. I'll show her this one. I've been waiting all my life to tell her how much I loved her.'
He held out a snapshot of a couple kissing, the man in uniform bending over the woman's shoes, knee-length skirt pulled up to where garters held up her stockings. Where in the world had this picture been taken, this version of 'The Kiss'? Despite herself, she couldn't help thinking of the sculpture by Koons, 'Jeff loves Cicciolina', that her mother particularly hated.
'Clea!' Berney's voice sounded strangled. 'Bathroom! Now!'
'Am I too late?' the old man asked.
Clea's eyes filled as she watched her mother stabbing the white carpet with her walking stick as if sinking into deep snow.
'Sometimes, it's just too late,' she said.
---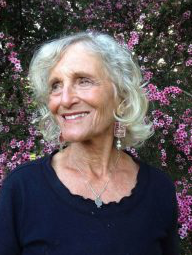 Barbara L. Baer is a teacher, journalist and editor living in Northern California.  She is the author of four novels in print from various small presses, most recently "The Ice Palace Waltz", and has published shorter pieces in anthologies and periodicals.