In early 1967, I applied for one of the thirty positions for a woman guide at the Indian pavilion at Expo 67 in Montreal. Following an interview in my hometown of Delhi, I was selected.
I remember that the lone female on the large interview committee asked me to name three varieties of saris. In those days, I usually borrowed my mother's saris for special occasions, but I had heard the other applicants discussing that very question before the interview, so, to the relief of the interviewer I was able to answer it correctly.
Once selected, I got cold feet. I didn't know whether Montreal was in the eastern or western part of Canada. I imagined myself behind a table laden with saris, amid tall pines, gazing miserably at visitors and being chastised by a supervisor for my failure to sell any saris. Panic-stricken, I almost bailed out.
Before leaving, we were given a crash course in the history and culture of India. We were allowed to take two suitcases and an overnight case with us to Montreal. I didn't have enough items to fill the two suitcases I'd newly acquired, but my colleagues reminded me that we would be purchasing foreign goods with our hoarded daily allowance; foreign goods were scarce in India at the time. I divided my clothes between two suitcases. On the night before the departure, I put all the saris, blouses and sari petticoats into one suitcase, while I filled the other with shoes and books (in the event of questions about the production of coconut oil, etc.). Even so, it remained less than half full.
Once aboard the Air India aircraft, all my fears took flight and adventure beckoned. Our first stop was Moscow. The breathtaking beauty of the Volga River meandering through thick forests reminded me of the enchanting Russian animated children's films from my childhood that we watched on Sunday mornings at Sapru House in Delhi. One story I remember concerned a childless elderly couple who lived in a log cabin in a clearing in the woods, silent with snow, when a tiny iridescent creature arrives on their doorstep.
I can't remember if it was just a fueling stop or whether we changed planes, but we emerged from the aircraft at Moscow airport and waited at the gate where our suitcases were delivered to us. Also at the gate, was a table laden with an array of books in English about Stalin and Lenin. A sign encouraged us to take them. I cannot claim any special interest in the writings of Stalin and Lenin, but I could never say no to a book, especially a free book. So, I grabbed a quantity of them and filled my half empty suitcase while a Soviet functionary nodded approvingly. I reasoned that maybe I'd read them someday and give the rest away as presents. I was pretty innocent at the time. Had we landed in the U.S. during those Cold War days, I would probably have been grilled by customs officials about my motive in bringing the works of Stalin and Lenin into the country. What transpired made that a moot point.
Our next stop was London. Let loose from the aircraft, our excitement at a new place was heady. As we filed out of the airport, clutching purses and overnight cases, I spied my two suitcases behind a cordon amidst a sea of luggage. We boarded the coach reserved for us. It was to take us to a city hotel.
I sat in the first aisle seat, while the coach idled. After some time, a porter thrust a suitcase into the aisle.
'Does this belong to anyone here?' he asked.
I was barely acquainted with the outside of my new luggage, but having seen it safely behind the cordon, I said 'no' with great assurance. We were eager to see the city of London and there was no time to lose.
My future roommate and I explored the luminous London streets, ate steak and kidney pie at Wimpey's, and devoured chocolate cake in a Lyons' Corner House.
When we landed in Montreal, I discovered that I was missing a suitcase. Late at night, we struggled into a city bus that was to take us to our complex of apartments in the Francophone Jacques Cartier district. We passed deserted sidewalks in Montreal's downtown. Patrician-looking stone buildings with backlit shop windows displayed elegant mannequins. Everything appeared loaded with promise.
The airline assured me that the missing suitcase would probably arrive with the next flight. It did not arrive the next day or at any time during the following weeks or months. Finally, it was determined that the suitcase was missing and a trace was put on it.
Word got around that I had lost my luggage. "Oh, you poor thing, how do you manage?" The reaction varied from sympathy to hilarity.
Expo 67 proved to be the trip of a lifetime. I did not have to sell any saris. In addition to a daily allowance and rent-free apartments, a salary was paid in Indian rupees to the women guides. This was salted away.
And for me, Expo 67 was even more lucrative: After much correspondence, the airline finally agreed to compensate me. They warned me, however, that it was no use telling them the value of the contents – they would pay me in Indian rupees and the amount would be determined only by the weight of the suitcase. I thanked Stalin and Lenin. The missing suitcase was the one containing all those books. When word got around that I was being recompensed for the missing suitcase, many of my colleagues vowed to lose theirs. The problem is not everyone has that talent.
---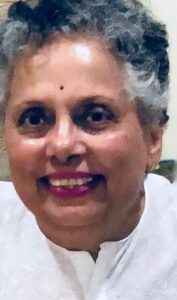 Ravibala Shenoy has published award-winning short stories (India Currents), short stories (Chicago Quarterly Review, Superstition Review, Best Asian Speculative Fiction, among others, flash fiction (Jellyfish Review, The Menacing Hedge. The Aerogram, Brilliant Flash Fiction, Bath Writing Event), memoir (Bosphorus Review, Sugar Mule) and op-ed pieces (Chicago Tribune, India Currents).