YELLOW 334 – 'Ah – not a winner I'm afraid, love'.
The accident has put Mary in hospital. Fractures, bruising, possible concussion. She's President of the Parish Committee but it was too late to cancel the Community Gala. There are posters on every lamppost and social media has a life of its own nowadays.
So here I am in sole charge of the tombola. The rain is just about holding off, but I'm not sure which way the weather's turning. There's fresh blue sky over the hills, dark clouds mithering over town.
Not a single prize has been won. Mary made me put extra losing tickets into the tub, so the number of tickets ending in five or zero is all out of whack. It's the kiddies I feel sorry for, but I suppose everyone loves that moment of triumph, being declared a winner – even if the prize is only an ancient bottle of Avon perfume or a zebra print vase.
Roy's voice comes over the PA telling people about the Dog Show. He sounds upbeat, less nervous than usual. He makes a slightly off-colour joke about bitches. Still, go Roy.
I decide to go through the tub of tickets and take out some of the losers. I scrunch them down into the pockets of my dress, looking over my shoulder, half expecting Mary to bowl up any minute with a shrill telling-off. But no, she'll be out of action for a while. I have to be careful though. The next stall along is the Christian Fellowship. That guy on the You Need Jesus mobility scooter is nifty, and he'd grass me up to Mary in a heartbeat.
Finally we have a WINNER – PINK 320. Fran from the allotments takes away a beautifully hand-knitted tea cosy. 'Well done, love'.
The stall the other side of me is Ginny's Gin Things. Lucky to be here, according to Mary. Not really setting the right tone for a community event. But with both Groom-a-Dog and Artisan Cheeses pulling out late in the day, we didn't have a lot of choice. 'Ah, give'em a go,' Pat (Committee Treasurer) had said at the last meeting. Mary had pursed her lips, written something down, and grimly sanctioned it.
Ginny's Gin Things has gin-themed everything – chocolates, bath bombs, candles, as well as bottles of flavoured gin. The woman (Ginny?) is a glamour-puss in her glitzy top and matching nails. I'm not sure she's supposed to be selling cups of the stuff for people to drink here at the gala, but when I plucked up the courage to ask her, she poured me an extra large one on the house. 'Give this a try darlin',' she said pushing a paper cup into my hand.
Now Pat has left her post on the cake stall to nip over for a quick one.
'Terrible business about Mary,' she says to me, paying Ginny for her tipple and a big bottle of Rhubarb and Rose for later.
'It's powerful stuff,' I tell her. I don't really drink except at Christmas.
What Mary had been doing up the ladder in the first place, I couldn't tell you. The hanging baskets didn't need watering. Roy (Committee Health and Safety Officer) had spent days working on an automatic sprinkler system. In the last committee meeting, Mary had been angry about the 'excessive' number of baskets we'd put up this year, muttering something about 'priorities' and 'executive decisions being ignored', scribbling furiously in her notebook. Roy had looked like a kicked puppy. I'd wanted to say how much they brightened the place up.
A little lad and his mum stop by – GREEN 105 – another WINNER! A box of Terry's All Gold – 'Not bad little fella!'
I take out more losing tickets and shake the tub encouragingly at the strolling stream of people.
Soon things are flying off the stall – YELLOW 130 – a Nivea Skincare set; GREEN 45 – an X Factor address book and pen.
Ginny leans across and re-fills my cup – peach melba flavour this time. Fruity.
I find myself telling Ginny how I wanted a proper brightly painted tombola drum with a handle you crank round, instead of this B&Q bucket. The committee funds could have stretched to that, but Mary vetoed it. Ginny puts her hand on my arm and pulls a sad face in solidarity.
Pat comes back for a second drink and gets one for Roy too. Roy's mooting the idea of free goes for everyone on the huge inflatable slide. Why not?
I think of Mary falling from the ladder, of it crashing down, her pen-hand pale and scrabbling under the rungs.
I place my cup of gin in the foreground and take a picture of the gala in full swing for the Facebook page. I know Mary will be checking from her hospital bed. I imagine her there, her white knuckles, clenched, grasping her phone. Her other fingers inside their cast, limp but itching to scribble something in her committee notebook.
I sit back and let the sights and sounds and joyfulness of the gala ride through me. The blue sky seems to have swung our way after all. I finish my gin.
I close my eyes and rummage for a ticket. PINK 210 – WINNER! A Dachshund in a jumper. The jumper reads It dachshund get any better than this.
---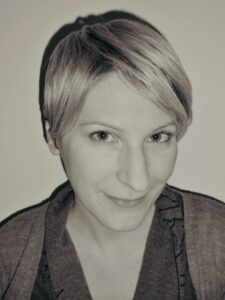 Shelley Roche-Jacques' work has appeared in magazines such as Litro, Reflex Fiction, Under the Radar, Ink, Sweat and Tears and The Boston Review. Her collection of dramatic monologues Risk the Pier was published in 2017. She lives in Yorkshire in the UK, and teaches Creative Writing at Sheffield Hallam University. 
Twitter: @RocheJacques