Kaya Masson heard the groans, hoots and giggles from neighboring cubicles. A chair scraped back. Was Frank already taking a break at the cooler with Andy? She hated to miss a word of their chat. The chronically over-caffeinated labor force at Author's Assured Success survived on tales of poverty, rejections, dreaming of the tooth fairy, and a real legitimate publisher taking their writing from under a pillow and putting it between hard covers.
Kaya opened her screen. The manuscript by Helen Romaine Pettipoint entitled Physician Heal Thyself promised to be a horror but she couldn't put off reading the first chapter any longer. As an 'associate' her job was to read and edit every first chapter before a contract was sent out. The rest of the book remained virgin territory. Except for neo-Nazi tracts and bomb-making manuals, Damon Kirkland, the man behind AAS, had never met a manuscript he didn't sign up.
Kaya enabled Bluebold Edit and glanced at page one. Cecilia was not a young woman nor was he a young man. They were not married to one another. Kaya was unsure of grammatical fine points. Should this be 'each other'? She had gone to a progressive country school in Connecticut where they encouraged poetry rather than parsing.
God bless fishing sagas and disability handbooks. Cookbooks were super. Even the entomologist's buggy memoirs were better than this menopausal fiction, Kaya thought. The literary aspirants were ecstatic when accepted, and sent their Visa numbers without reading the 8 pt contract print. They only cared about the 24 pt print: SUCCESS GUARANTEED. WE ASSURE YOUR WORK HAS INTERNATIONAL DISTRIBUTION.
Until a month ago, Cecilia had been a devoted partner and wife. She had not strayed. That was before she laid eyes on Dr. Robinson. The circumstances of their meeting were not ideal but she was powerless to resist the flow of attraction.
Her mother's lung cancer had spread everywhere. Dr. Robinson had closed her mother's eyes in a peaceful passing but Cecilia's emotions raged madly out of control. She would have gone to bed with Dr. Robinson on the sheets where her mother breathed her last. Shameful. Cecilia thought.
'One hot flash, with death as a chaser,' Kaya e-mailed Vanessa, her BFF who worked several cubicles away. Vanessa always made her feel they were two against the world. 'This sad lady I'm reading reminds me of Mom – like when my dad was dying.'
Cecelia saw that behind the doctor's bifocals he had such blue eyes. She yearned to touch his shiny head. Male-pattern baldness was so appealing. Dr. Ross let Cecelia cry – if she could have emptied her tears into a chalice and given it to him, she would have done so. Instead, she wrote letters she did not send. She regretted not looking her best.
Kaya looked up from the screen, remembering holding her Dad's hand for the last time. Wasn't the character's name Dr. Robinson not Dr. Ross? She stood up to stretch and found herself at Vanessa's cubicle. Vanessa was African-Cuban with bronze dreadlocks. Guys always bought her delicious bright drinks that cost small fortunes. Kaya was a sexy, wide-mouthed girl with curly dark brown hair prematurely silver streaked. But unless Prince Charming came to the rescue soon, she'd turn completely grey sitting in her cubicle.
'Yo, Miss College.' Vanessa spread her long fingers adorned with snake and voodoo rings. 'Stop overthinking. You don't read for content. Just be sure characters don't change names and locales. Make tense correction for one chapter, then you're done – out of there, contract in the mail.'
'I do all that, Nessa, but I'm having a problem. I think my mother is writing under a pseudonym because she has the hots for Dr. Kirschner. Maybe she's trying to tell me that she has needs, too. I haven't been home since July 4th and she keeps asking me to come visit, saying that she's lonely.'
Vanessa gave Kaya a squinty look. 'Your mother is not writing a stupid novel to get your attention. I've got a birder's book. I don't know a chickadee from an owl, but this is cute.'
'Okay, I'm going back to finish reading chapter one of weird coincidences.'
Cecelia wondered if the doctor had been having an affair with the small brunette who managed the office, or if was faithful to his wife who was president of the local Hadassah.
Hadassah? That surely was a code word? An author named Mrs. Pettipoint would certainly not be in the Hadassah.
Cecilia had her hair cut and colored and drove with her dog to the neighborhood in Las Felix where Dr. Robertson lived. She parked and leashed Bowie, her black Great Dane, as the physician appeared, walking toward her with a tawny Wheaten on a leash.
'Mrs. …,' he said, clearly not remembering her name.
'Cecilia, I'm Cecilia, Stephen. You helped my mother pass.'
'How are you doing?'
'Well,' Cecelia answered. Can't he see I look 100 times better?
'Your beast won't eat up Bert here?' he asked.
'You gave me such strength, Stephen. I wanted to take you in my arms and never let you go.' Now it had all come out. Bowie was tugging the leash but Stephen, Dr. Robinson, acted as if he hadn't heard her avowal.
'My wife and I have four grown children. They're wonderful people,' he said.  
'I have a daughter who is still quite a concern.'
Oh shit, Kaya thought, sweating over the keyboard.
'I'm afraid this is where I must say' goodbye.'
'No, no Stephen, don't go.' She touched his wrist. 'I think of you every day, every moment of every single day.'
'Your feelings are not uncommon, Cecilia. Transference doesn't only happen in psychotherapy.'
The dogs were pulling in different directions,
'I came to offer my love, my heart.' Cecilia unbuttoned her blouse.    
Oh, Mom, don't, please don't, Kaya pleaded at the screen.
When she looked again, Kaya read the words, 'To be continued.' She truly did want to know more. She texted Damon Kirkland asking if she could read more of the manuscript before she accepted. He flashed back: 'There are only five stories, Kaya, and death and sex are two of them.'
She closed the screen, got the contract page out and sent it.
At six o'clock Kaya and Vanessa were at My Thai on Third Avenue.
'Red pumpkin curry, extra hot,' Kaya ordered. 'I want to sweat.'
'You're moody, Kaya. You need to get laid.'
'I just want to get into bed and forget everything about today.'
In her dreary flat on E. 4th, Kaya emailed her mother, 'Mom, Are you home this weekend? I'll get a challah at Zabars and take the 6pm train. We'll light the candles and talk about Dad.'
---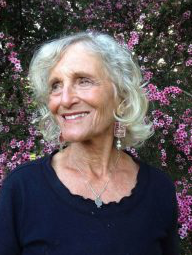 Barbara L. Baer is a teacher, journalist and editor living in Northern California. She is the author of four novels in print from various small presses, most recently "The Ice Palace Waltz", and has published shorter pieces in anthologies and periodicals.