My aunt wears tight jeans and stilettos. She says, why shouldn't she? She's in great form, after all. My mum, who is more pencil skirt and sensible shoes, rolls her eyes.
My aunt says she's going to try a new hairdresser. My mum says, 'What's wrong with the old one?' My aunt laughs and says it's time to do something wild. My father quickly retires to bed before my mum starts off on one.
My aunt comes back with a head full of wild animals, crowned by a splendid giraffe. She has a snapping orange crab for a fringe and a mackerel tucked behind her ear. My mum says she's really overdone it this time; my aunt says she's just getting started. My mum says, 'This is why you've never found a husband.' My aunt touches a fox and disappears.
When she comes back, she's breathless as she tells us about a hunter on horseback. When she gets to the part about his rippling thighs, my mum raises her hand. 'Jo, just stop! This cannot go on!'
My aunt touches a sheep and finds herself a gentleman farmer in the Highlands; a lion, and she's sweaty in Kenya; an orca, and a whaler wraps her in skins. My mum sighs into her tea. By this time, my aunt's looking tired; she needs a bit of a trim.
After one adventure, she slumps on the sofa. I cuddle up next to her. When the macaw stops yelling, she tells me in a low voice she thought she had met the man of her dreams; he was wearing a beautiful suit made of golden feathers. He'd flown away after only one night.
She stops coming round. My mum just shrugs, puts it down to a difference of opinion, but she looks sad. We find a beautiful raccoon scratching at the back door, and I'm amazed when my mum says she can stay. I spend long days playing with her but, at the end of the day when my mum kicks off her sensible shoes, the raccoon jumps up on her lap, calling for attention. She rolls her eyes and strokes it with familiarity. 'Enough of that nonsense,' she says.
---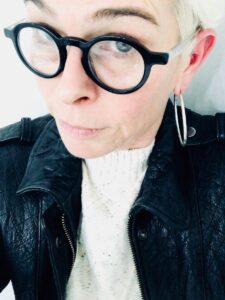 Julia Ruth Smith is a mother, teacher and writer. She lives by the sea in Italy. Published in a number of online and print journals, her humour is not always appreciated at home. On Twitter @JuliaRuthSmith1