Taking a jar labelled 'Local Honey' from the carefully balanced glass pyramid, I put it in my basket along with the other pills and allergy sprays. As the girl behind the checkout scans the items, I silently cringe at the vast sum of money I am about to spend. Turning on the air-con back in the car, I escape the dancing heat waves on the tarmac. With cool air on my face and bubbling excitement in my stomach, I drive to Nan's house.
'It's lovely of you to take Molly for her walk in the park, dear,' Nan says. 'You know this heat makes my ankles swell so I just can't bear walking her for more than ten minutes.'
'I don't mind doing it, Nan,' I say, crossing my fingers underneath the table in a childish attempt to pacify my conscience.
'This is the third time you've walked her this week, and well, you've never really shown an interest in her before. I always assumed it was because of your allergies,' Nan says.
I suspect she has become suspicious of my kind deeds, and I try to give her a satisfactory answer: 'Perhaps I've finally outgrown my allergies – and Molly is rather cute.' The truth is, I don't feel drawn to the wet-nosed, furry four-legged animal at all.
I find our walks unenjoyable for, although the lead is in my hand, Molly is always very much in the lead. Either she slowly familiarises herself with the scent of every blade of grass, or moves with great velocity towards something of more interest. There's no middle ground.
But I need Molly as an alibi.
It all started two weeks ago when Jenna arranged to meet a man she matched with on an online dating site. They were going to take a walk around the park before getting some pizza. As you just never know who intends to turn you into a skin-suit and add you to their basement collection; I did what any true friend would do and followed Jenna and the handsome stranger through the park. I did this until Jenna dropped a tissue from her bag, the pre-arranged OK sign. The following day, I tried to extract every drop of information from her about her meeting with the handsome stranger:
'Are you going to see him again?' I asked, trying not to sound too eager.
'No, I don't think so,' she said. 'We didn't click, you know, plus all he did was talk about his stupid dog. He takes his dog to the park every night, just so that it can "interact with its pup friends". Can you believe that?'
'Wow!' I said, contemplating what excuse I could use to bump into him in the park.
At first, I pretended to be jogging past him but gave up on this idea as my non-existing fitness level rendered me an unattractive, wheezy, tomato-faced mess. Then it was Molly's cue and our first evening was almost successful. As she approached the handsome stranger's dog, he glanced up and our eyes connected but, before I could introduce myself, Molly decided to pursue a squirrel.
The next evening Molly foiled my plan again.
'Really, Molly!' I groaned. 'He's right there! Could you not have planned your bowel movements for another time?'
But I remained determined to alert the tall, olive-skinned, dark-haired stranger to my existence. I scoured the internet for information on the stranger's dog breed, and discovered that the miniature Chewbacca is indeed a Brussels Griffon.
So, armed with memorised facts, Molly and I approach the stranger and his dog. The words 'I like your dog' are sufficient as a conversation starter. His voice is deep, like the sound of thunder, promising an end to the drought in my love life. But Molly's attention drifts towards a bee with pollen-heavy legs, buzzing with effort over the dandelions on the grass. Where Molly goes, so does her lead, and before I can take any preventative action, she runs around my legs several times and entangles my feet.  I squirm like a sea turtle caught in a plastic six-pack ring, trying to free my feet, but my efforts leave me on the ground with my cheek firmly resting in a steaming heap of dog muck. Prince Charming finds this hilarious, and every peal of laughter that escapes past his pearly whites removes another inch from the pedestal I have placed him on. The calamity of an evening and my bruised pride dashes all future hopes for the handsome dog owner – at least for now. As for Molly, she will have to be content with her ten-minute walks with Nan.
---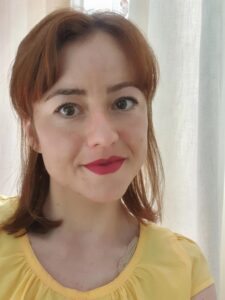 Cindy Hossain was born and raised in the Free State Province, South Africa. She emigrated to Manchester, United Kingdom in 2006 where she now raises her beautiful young family. She is passionate about words and the power they have and is currently studying English Literature at the Open University.