She towers over me on the doorstep, her groomed blonde hair glowing in the weak afternoon sun. 'Coiffed', my mum would say. She flutters her camel eyelashes and her lip gloss shimmers in a simper.
'Would you like to see the catalogue? I have samples of our latest perfume. I have them with me now.'
I find myself retreating, allowing the goddess to enter the hallway. The kids' shoes form dangerous shifting piles against the wall. Three raincoat mountains are suspended from the hooks on the wall. I squeeze past. She sails, her high heels clicking on the parquet.
'My name is Sandie. I am calling to introduce myself to my new neighbours. I'm a make-up expert, willing to share my skills.'
'Please sit down,' I stutter, moving the bag of nappies and the changing mat from the once pristine sofa. 'Would you like a cup of tea?'
'I don't put caffeine into my body.'
'I have herbal tea with rose petals?'
'Delightful. Thank you, Julie.'
She smirks, her perfect teeth white against the soft sheen of her baby pink lips. Turning to the kitchen, I feel I have lost something, dropped it under the sofa, where it lies forgotten with the balls of fluff and cat hair.
As I serve tea, she opens her pink case. It is filled with pots of iridescence, as if a rainbow has formed in the winter dullness of the sitting room.
'Have you moved into the Hargreaves' house?' I ask.
'Number 7. It's mine now so it's The Avon Lady's house.' She purses her lips and crosses her long legs, elegant ankles displayed. Her pink dress sits perfectly at knee level.
I laugh, then falter. She stares back at me, forehead ironed, lips serene, her body posture perfect.
'We have an offer this month on skin care. What cleanser do you use? You could do with something that works harder for you.'
'I don't use it much, with the kids…' My words pop up, babbling out.
'You must make the most of yourself, at least for your husband's sake, otherwise someone else will steal him away.' Sandie looks into my eyes, mesmerising me. I am stilled, trapped in a net. Peered at. Inspected. Catalogued.
'You need skin care, pore-cleanser first. Then, something to soothe the dryness.'
'The baby will be awake soon, so we may not have long.' I look at the stubborn clock, willing the hands towards three, but they stay at two. The baby monitor is a traitor, silent, not a flicker of light.
She takes out a pen. 'Next Tuesday, 1.30, for a skin consultation. Plenty of time for you to get a sitter for baby William. My card – with your appointment details.'
'Thank you.' I take the card as I stand up and move to the hallway.
Stepping onto the doorstep, she turns. 'Oh, and, tell George that Sandie says "hello".'
---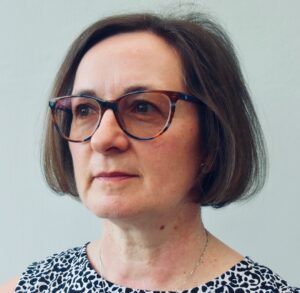 Joyce Bingham enjoys writing short fiction and has had pieces published by the National Flash Fiction Day in the Write-in Blog. She lives in the North of England.