Last summer, she reported from her cruise around The Baltics. This year, Christina and her family invite us to join them on the road from Calpe, Spain on the Costa Blanca to their village in Bavaria, Germany
Thursday, 20th June 2019
4.57 am, 1870 km to go
I pull out my cell phone and open 'notes' to record unusual activity, license plate numbers, possible highway pirates. Husband asks what I'm doing. Say I had flash of inspiration for new book. Catch glimpse of myself in side mirror and check if my nose is growing a là Pinocchio. Try out a pensive, deep-in-thought look of a writer. Husband asks if I'm constipated.
5.10 – Pulled a ticket for the autostrada – I check out the car windows for possible bandits and tires slashers. First challenge passed.
Only two other cars on the road: a black, two-door sedan and a dingy delivery truck – smuggler? Not family vehicles. Husband blazes past them too quickly for me to get a good look at the drivers. Could be potential hijackers – who else drives this time of night? I note license plate numbers just in case.
5.53 – Reaching outskirts of Valencia – relieved that there are more cars. We blend in and aren't targets.
6.25 – Ed Sheeran and Justin Bieber's duet comes on the radio. I relax, it's a sign this will be a good trip.
Passed a sign for a 'toilet lounge'. Debate with husband what this could mean. He says possibly a new form of toilet facility designed by famous architect. I think it's a space issue on the sign – two unrelated nouns. 'No,' he says, 'the Spanish love modern design.'
Maybe they have guest DJs from Ibiza, Mallorca, and Barcelona.
7.05-7.57 – I made 100 km in 52 minutes – personal best. Was driving in convoy with a Mercedes SUV from France and a Porsche Panamera from Belgium. Now lost sight of them as we took a potty break (no 'toilet lounge' in sight) and to change drivers. Gender neutral toilets. I went in the wheelchair access, private bathroom. I didn't want a strange man hearing me pee next to him.
8.08 – Back in the car, Husband driving. Shame I can't sleep in the car. Ed Sheeran and Justin Bieber coo in the background.
9.15 – We're in Barcelona? Line of dried spittle trailing from the corner of my mouth confirms that I can indeed sleep in the car.
10.20-11.52 – Somewhere between Perpignan and Montpelier. We're keeping our eyes peeled for the supermarché we saw on the way down to Spain. I've used half my cell phone battery scanning Google maps, searching for the store in each town along the highway.
'We definitely saw it on the way down,' I say.
'We did,' Husband agrees.
'Maybe it was a mirage.'
'What, a Fata Morgana?' Husband asks.
'No, not like the Virgin Mary.'
'What?'
'The apparitions of the Virgin appearing to believers or children.'
'Children?'
'They haven't become bitter by life.'
'Are you having low blood sugar?'
Ed Sheeran and Justin Bieber sing about not caring.
12.57 – Still no sign of the grocery store we passed on the way to Spain.
'There's no way we missed it. Even when I was Googling, you would have noticed,' I say.
'Yes.'
'The only logical conclusion is that they tore it down.'
'Look at all the construction – that could be its remains.'
Kids in back seat with dog tucked between them, enjoying the air conditioning. Naughty giggles coming from behind my headrest. I ask to see what they're sniggering about. Son explains that the Tomodachi Life figures are making out. Quick confiscation of the Nintendo 3DS.
13.20 – Kids hungry. Have only packed non-diarrhea-inducing foods like Pringle's, crackers, and pretzel sticks. No dairy, and heaven forbid, no fruit. Haribos are the only exception, and I pat myself on back for raising kids with a well-rounded diet – balancing of organic food with normal teenager junk food fare.
Woman at rest stop asks if our dog is a Lagotto Romagnolo.
'Yes -,' my daughter begins.
'Never heard of it,' I say, elbowing her. 'Nope, he's not a pure breed. The pound says he's a labradoodle heavy on the doodle but I think there's some pitbull in him. When he locks onto your arm sometimes it takes two people to get his jaws pried open.'
Woman snatches her hand away and races to her car.
'Mama, why did you lie?'
'Did you see the look of her? She probably wanted to steal Enzo and sell him on the black market.'
14.43 – Orange, France
With our hopes of finding the supermarché crushed, we take a break from the highway and stop at a competitor store. Having never been here before, we marvel as we pass the jewel of an opera house and Roman ruins. Note to self: look up if they are indeed Roman ruins, as this is what I told kids.
45 min later – dog box is full of wine, croissants, baguettes, licorice and my favorite Haribo which are only available in France. Note to self: write to Haribo headquarters in Bonn asking why the Landsleute of Germany, home of Haribo, do not have access to Cocobat, frosting-like-filled black licorice.
The dog is snug with his seat belt and sitting between the kids, his head resting on a box of croissants, face blasted by the air conditioning vent.
15.10 – Lavender fields in bloom! They weren't purple ten days ago. Perhaps there's an L'Occitane at the next rest stop? Surely we can fit some plants in the dog box or between the suitcases and bags as protection against moths?
16.14 – Debating whether to push through to get home by midnight or stay overnight in a hotel.
18.15 – Two hours straight driving- that's a record for me. Over 200 km in one go. Husband was supposed to be sleeping but we hit a traffic jam and he started commandeering my strategy. I just want a toilet and a McDonald's. Neither in sight. Earlier we'd passed one every 20 km, and now: wasteland.
Big mistake: I start watching the dotted lines between the lanes and hypnotize myself. My father used to do this on our two day drives to Florida and he'd shake his head and bark. That's when you knew it was time to stop and get him a coffee.
18.30 – we all know the words to Ed Sheeran and Justin Bieber's song now – my son even harmonizing.
20.30 – OMG we're driving through.
Stopped at a Burger King, although we're a McDonald's family. Collectively decided the fries were better than usual for Burger King.
21.39 – This is the sixth construction site – WTF, Switzerland?
Repairing all the roads at the same time? I didn't know Switzerland even had that many highways.
22.39 – Trying to entertain my husband to keep him awake. Where are Ed Sheeran and Justin Bieber when you need them?
22.46 – While chewing gum to stay awake, I take out the repair work on my front tooth that my husband has fixed four times now. (Dentist, ed).
22.50 – Driving through the last construction site and we're out of Switzerland. They should change the cross on their flag to an orange cone.
23.12 – Crossed into Austria and I'm sure the black Audi Q7 with tinted windows is following us. Husband says it's kids pushing us to drive faster. I'm sure they're tailing us to crash into us and steal our stuff.
23.15 – The potential robbers have turned off onto another street. Maybe Husband is right.
23.18 – God I smell.
23.23 – Hallo! Servus! Gruß Gott! Deutschland! 222 km to go.
23.40 – Welcome back to the German Autobahn – stretches with no speed limits. After speeds of 100 km in Switzerland I'm having heart palpitations with husband driving 180 km/hr. I'm awake now and have to pee.
Friday, 21st June 2019
00.15 – Husband stops at a deserted rest stop to relieve his bladder. I give him a flashlight and lock the doors. If he's attacked by wolf, snake, brown bear or highway pirates, I don't want them coming after the children, dog, or me. My phone is poised to have Siri call authorities just in case.
00.55 – Ed Sheeran and Justin Bieber singing again.
01.05 – Ed Sheeran and Justin Bieber on another channel – will this drive ever end?
01.27 – Entering The Village, Germany. I look at myself in the sun shade mirror: I've been sitting in a car for 20.5 hours, I'm unshowered, my face is shiny from pore grease and sweat, my hair exploding in a messy bun under a baseball cap and, when I pull my lips back, I reveal a snaggle tooth in the lower jaw.
I look like a highway pirate.
---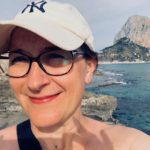 Christina lives in the city of weißbier on the outskirts of Munich. Funnily enough, she writes romantic comedy and is completing a memoir about her experiences as an American embedded among Bavarians. In her free-time (ha!), she attempts Chopin pieces on the piano, assists in a Munich photography gallery and works on her Southern-German dialect.
Twitter: @ChristinaMTolan