The bold lip that sneers. The curled eyelash. The body gift wrapped in feather and flounce, demanding your gaze. Cindy Sherman hangs on the walls, bouncing from Beverly Hills to Cape Cod donning disguises that titillate the senses.  Madonna, Monroe, cocktail waitress and bored housewife. She's been them all. She is a chronicler of a gilded age. But, you're not listening.  You wear sensible flat sandals and short grey hair.  Your mouth has not kissed a lipstick in a hundred years.
You're talking. Loud, urgent. Fish words swim out of your mouth, gasping for oxygen. The museum guard raises an eyebrow, buries a yawn. Shifts one buttock cheek, then the other on the folding metal stool. You are two kind ladies of late middle age. He won't disturb you. He'll let it pass.
This is what you have to say:
'Brother Richard is still being a dick. He forgot to ring mother on Mother's Day. Sister Margaret has hit the bottle again. What about your allotment? Did you catch the thieves? Who would've thought courgettes were so prized. Not courgettes? Sorry did you say runner beans? My hearing is not what it used to be. You got the smear test back.  Yes, my knees are playing up again. That homeopathy woman you suggested. I think she's a quack. Three pounds fifty they charged for a measly cup of coffee in the café upstairs. What did I tell you? Greggs would've been better. I worry about Paul most days. The other day he left the crossword unfinished. Again. Most unlike him and yes, did you visit the grave? Can't believe he's been ten years gone? And the kids? Mark's planning on emigrating to Australia. You mean immigrating. No, I meant emigrating. It's what rich folks do when they set up home in another country. This country is going to the dogs. Just look at that guard, lazy sod, not doing his job.'
---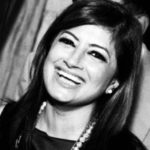 Reshma Ruia is a published author and poet. Her first novel, 'Something Black in the Lentil Soup', was described in The Sunday Times as 'a gem of straight-faced comedy.' Her second novel manuscript, 'A Mouthful of Silence,' was shortlisted for the 2014 SI Leeds Literary Prize. Her first collection of poetry is due to be published in October 2019. Reshma's short stories and poems have appeared in various British and International anthologies and magazines and been commissioned for Radio 4. Reshma is the co-founder of The Whole Kahani – a writers' collective of British South Asian writers. Born in India, but brought up in Italy, her writing explores the preoccupations of those who possess a multiple sense of belonging.