I am the Goddess of Car Seats
My slender hands slip
Between durable plastic, textile and foam
Seeking connection
I swear
This should be easier
Three in a row:
A trinity of graces
A host
Of cherubic faces
I configure
I deliver
I am the Goddess of Car Seats
Yes, I have straps to fit your toddler
I will
Attach them in a jiffy
I swear
This is a design failure
I'll slide the middle seats forward
Raise the back seats up
Toddler in the middle
Twins either side
Eldest in the back
Don't kick me in the back!
I am the Goddess of Car Seats
In my turquoise Zafira
I configure
I deliver
I am the Goddess of Car Seats
Do you think I chose this life?
It seems I did
I don't remember choosing
I'd have liked to be goddess of the moon and hunting
Of lovers spurned
Even of weaving
But no, I am the Goddess of Car Seats
Thank you for your offerings, disciples!
I enjoyed the biscuit crumbs
The mouldy pizza
Half-chewed sweet
That wrinkled McDonald's balloon
Like a metaphor for my life
Thank you!
It pleases me that you so honour my bounty
Make the sign of the magic tree
As you enter this sacred space
Then put your bum in that seat and quit whacking your brother in the face!
If I can just…. EEEEEEE!
Arsehole beeped at me!
This is my street, mate!
Fuck you!
You try doing three from the kerb side!
I am the Goddess of Car Seats
I configure?
I deliver
I am the Goddess of Car Seats
Fucking car seats
Those bastard fucking cunting car seats!
---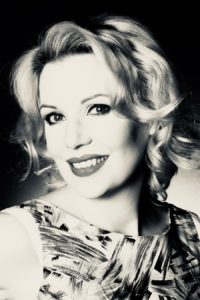 Jo Howard is a poet, singer, storyteller, scriptwriter and host of Manchester spoken word night, Verbose, along with Zena Barrie. She is a producer at video company Viva la Zoom, which she runs with her husband. Her work is inspired by experiences growing up in Lancashire and living in Manchester. Twitter: @joannuski & @VerboseMCR
---
Previously by Jo Howard: